How to use metal garden art to decorate your yard
Want to make your yard looks more beautiful and lively? Only tidy lawn and colorful flowers may be not enough. A yard is a space that can reflect the host's taste and aesthetic, modern yard always combine traditional style garden with metal ornaments such as metal garden sculptures, water fountains, garden bollard light, garden screens and metal planters.
Because of the characteristics of metals, metal garden decorations give the garden sense of strength and time, which better suit for soft plants and create a balanced scene.
Garden art ideas to make your yard beautiful
AHL STEEL enhance your landscape design or garden decorations with raw materials of corten steel as metal garden ornaments, we can make your garden beautiful with many different kinds of garden sculpture and statues.
Below are some garden art ideas, which are easy to do and we believe they will give you some inspiration for using garden decorations and yard art to add interest to your outdoor space.
1.Create a focal point
Just like interior decorating, a focal point in your garden directs your attention to the areas you want to show. Whether your garden is big or small, a focal point is necessary. Usually the focal shall be a metal sculpture or statues standing in the middle of the lawn or in front of a pond, make sure it is big enough for your yard, or it may get lost among the plants.
If traditional sculptures are out of time, a modern metal sculpture may light up your backyard. The unique color of metal such as corten steel materials can naturally fit in the environment, and it will change appearance with time.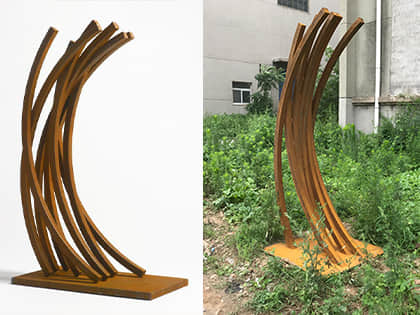 2.Install a water feature
A complete garden can't be separate with water feature. Traditional water feature like pond or pool is difficult to maintain, modern style water feature use corten steel which can last for decades outdoors.
Corten water fountain or water screen is easy to install, if your garden is big, a pool with water fountain sculpture is beautiful. If you like concise style, a simple water screen with some decorative stones on the ground may be more attractive.
Each waterfall has a water tank and a screen in the bottom. The water tank can be buried underground,Decorative stones can be placed on the screen. It also equipped with pumps and pipes.
Find more styles of water fountains HERE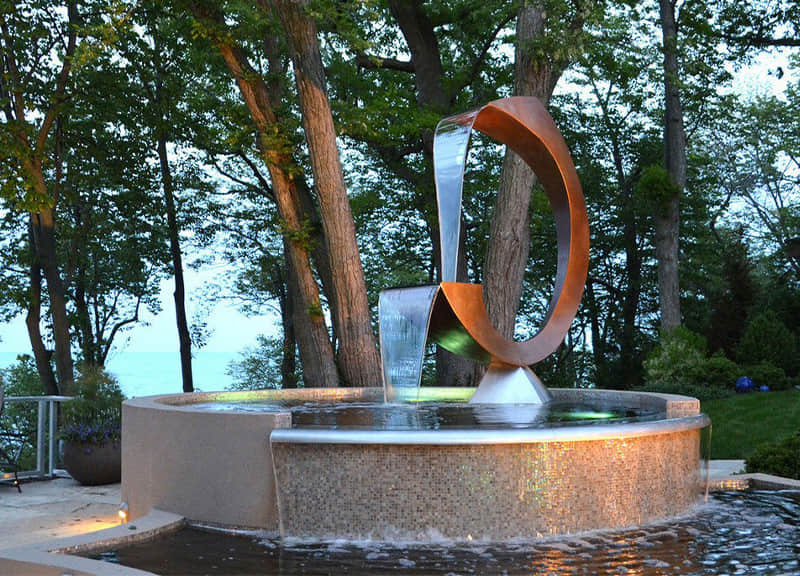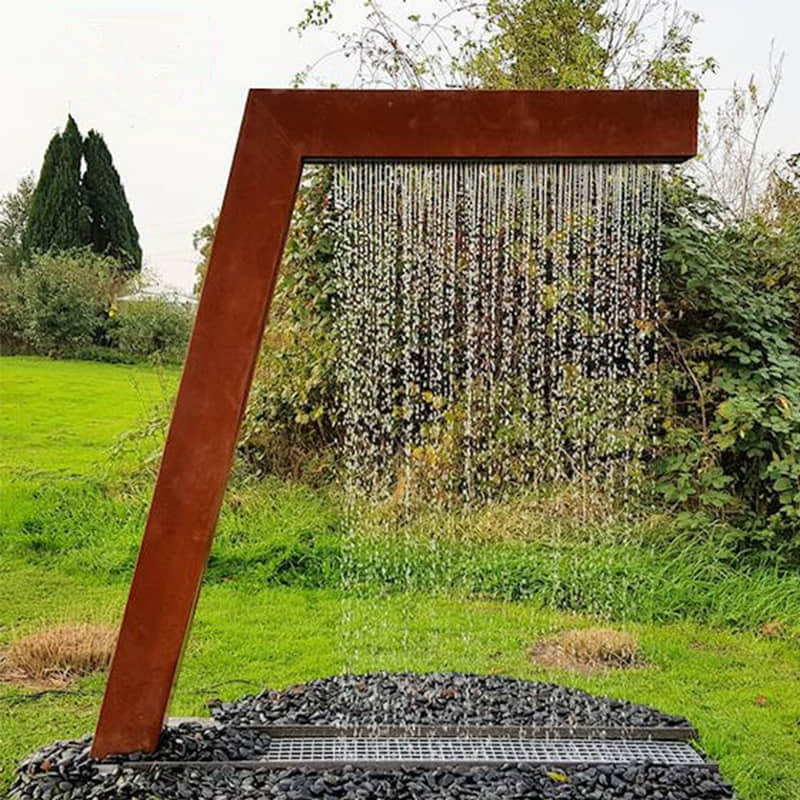 3.Hang a bird house
In addition to beautiful and quiet ornaments, add some sound in your garden would make your garden just as lively as real nature environment. You can get a simple version that just requires a tree branch and a hook to get it installed. Or you can go for a more elaborate design that needs to be assembled and installed on a pole. Either one will provide some interest to your garden.
4.Light up your garden
An artistic garden should be not only gorgeous in day time, but also cozy at night. Many people like put chair and table in the yard, sitting in front of and table and drinking some tea at fresh night. At that moment, a little light in the garden could add much feeling. Bollard light is a good choice, we provide corten steel landscacpe garden post lights, which can create vivid night atmosphere. The bollard light not only creates exquisite art shadow, but also creates a focal point that can be added to any landscape lighting system. During day time, they are art ornament in the yard; while at night, their light patterns and designs become the central focus of the garden.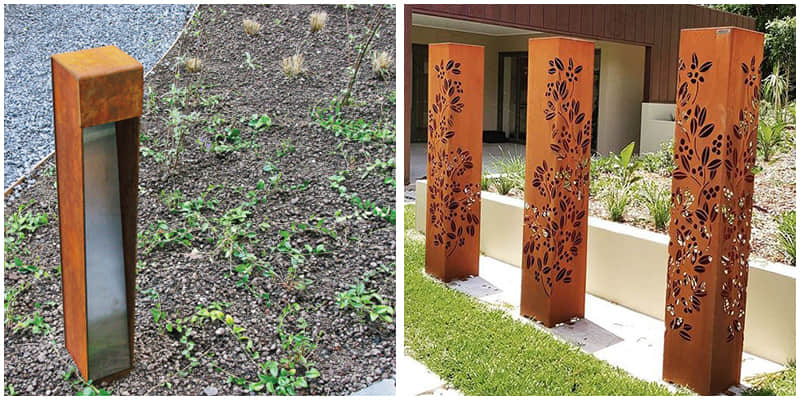 5.Hang garden wall art
Hanging wall art isn't just for interior. If you have a fence or wall in garden, hanging a metal screen or metal wall art could bright up the wall. Using metal materials such as corten steel screens is also eco-friendly and fashionable.
For more metal screens styles, click HERE for more information.