Welded Stainless Steel Tube
Standard: ASTM, EN, GB, JS
Grade: ASTM A249 A312 A358 ASME SA 249 SA 312 SA 358 TP304 TP304L TP309S TP310S TP316 TP316L TP316Ti TP321 TP317L TP347H
Specification: (can customized by request)
Wall Thickness: 0.5-45mm
Outer Diameter: 6-610mm
Length: 6m or as customers' request
How is Welded Stainless Steel Tube Made?
Stainless steel welded pipe, is commonly formed by moving the cut coil through a series of rollers, and then welded into the pipe shape in a chemically neutral environment. A rolling application is used to forge the welded seam, and a heat treating process is used to finish the welded stainless steel tube. The production process of stainless steel welded pipe is simple, which is of high production efficiency, variety of specifications, and less investment in equipment, but the general strength of welded pipe is lower than seamless steel pipe. According to welding technology, it can be divided into:
Automatic welding method: submerged arc welding, plasma welding;
Manual welding method: argon arc welding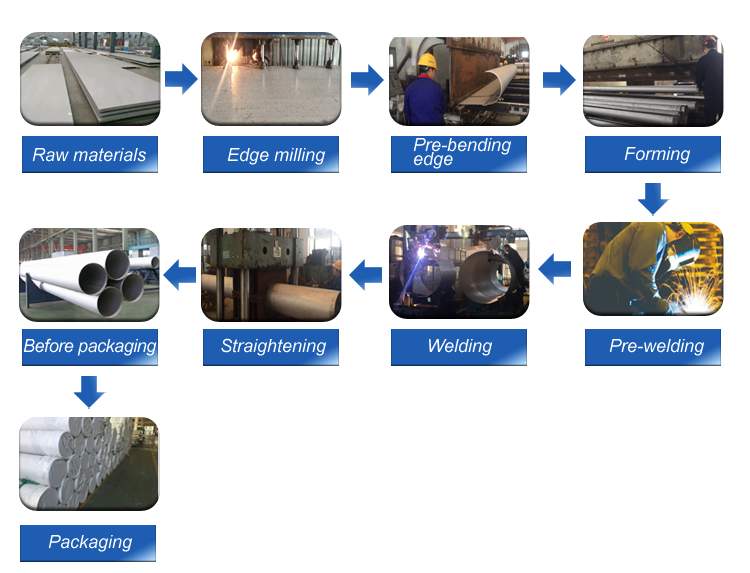 Comparisons between Welded & Seamless stainless steel Tube
Due to the manufacturing techniques of stainless steel welded tube, It has the characteristics as follows:
Welded tubing's easier manufacturing process can produce larger diameter tubing with thinner wall sizes for less. Such properties are more difficult to produce in seamless tubing.
Welded stainless steel tube has less drawing and annealing in the manufacture of a welded and drawn tube, so welded stainless steel tube is generally cost less than seamless tubing in producing the same standard and specifications tubes.
Generally, stainless steel welded tube has high precision, uniform wall thickness, high inner surface brightness can be arbitrarily fixed. Therefore, it embodies its advantages in the application of high precision, medium and low-pressure fluid.
The comparisons list of welded and seamless steel pipes are as follows:
| Welded stainless steel pipe | Seamless stainless steel pipe |
| --- | --- |
| Cheaper | More expensive |
| Larger OD and WT ranges | Standard sizes |
| Middle and low working pressure | Higher working pressure |
| Higher precision | Lower precision |
With the rapid development of continuous rolling production of high quality strip steel and the progress of welding and inspection technology, the quality of welding seam has been constantly improved, the varieties and specifications of welded stainless steel tubes are increasing day by day, and the seamless steel tubes have been replaced in more and more fields, especially in the aspects of pipe for heat exchange equipment, decorative pipe, medium and low pressure fluid pipe and so on.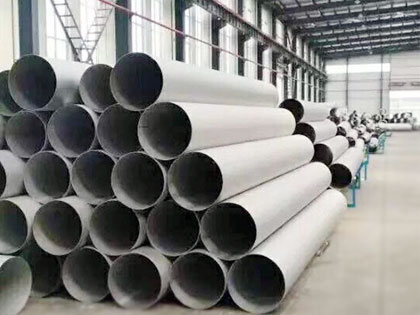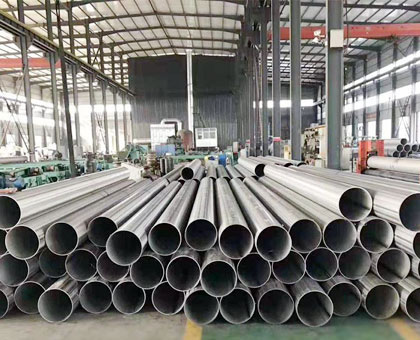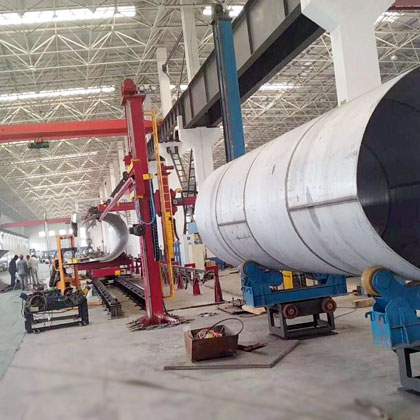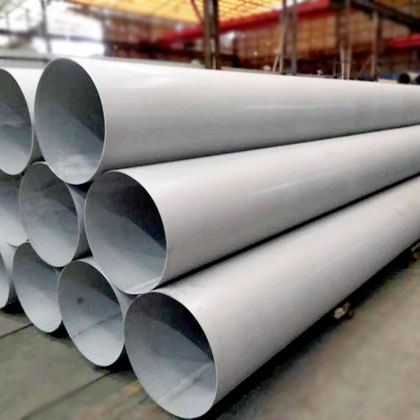 Applications of AHL Welded Stainless pipe
Welded stainless pipe is often preferred by applications which require lower anti-pressure ability and corrosion resistance in general environments. AHL is specialized stainless steel welded pipe manufacturer, our welded stainless tubes have been served in industries such as:
Architectural applications
Hypodermic needles
Automotive industry
Food and beverage industry
Marine industry
Pharmaceutical industry
| Grade | Applications |
| --- | --- |
| ASTM A213 | Seamless Ferritic And Austenitic Alloy-Steel Tubes For Boiler, Superheater And Heat-Exchanger |
| ASTM A269 | Boiler, Heat Exchanger, Superheater & Condenser |
| ASTM A312 | Pipeline For Conveying Corrosive Fluid |
| ASTM A514 | Intermediate-And Higher-Temperature Service-Boilers, Pressure Vessel |
| ASTM A789 | Petrochemical Industry, Chemical Fertilizer Industry, Oil Refining Industry, Oil And Gas Industry |
| DIN17456/17458 | Construction Tubing, Pipes For The Food, Pharmaceutical and Automobile Industries, Domestic Installation and Decorative Purposes |
| JISG3459 | Piping of Corrosion Resistance, Low And High Temperature Service |
| JIS G3463 | Machinery Industry, Chemical Industry, Thermal Equipment, Mining, Construction & Decoration |
Specifications of AHL Welded Stainless Steel Pipe
Welcome to the Highest quality welded stainless steel tube supplier. Over 20 years of manufacturing experience, we supply stainless steel tubing: 4.5" OD ~48" OD and other more sizes.
The below chart is the specification and properties of part of our welded stainless steel tube for your reference:
Product Name

Stainless Steel Welded Pipe
Grade
201/202/204/201/304/304L/309/309s/310/310s/316/316L/317/317L/321/317/317L
Outer Diameter
6 ~ 610mm (1/4-24)
Wall Thickness
0.5 ~ 45mm (0.0196-1.780)
Length
6m ~ 12m as customer's requirement
Surface
2B, 2D, No.1, No.4, BA, HL, 6K, 8K ,etc
Tolerance
a) Outer Diameter: +/- 0.2mm
b) Thickness: +/- 0.02mm
c) Length: +/- 5mm
Manufacturing Process of Welded Stainless Steel Welded Tube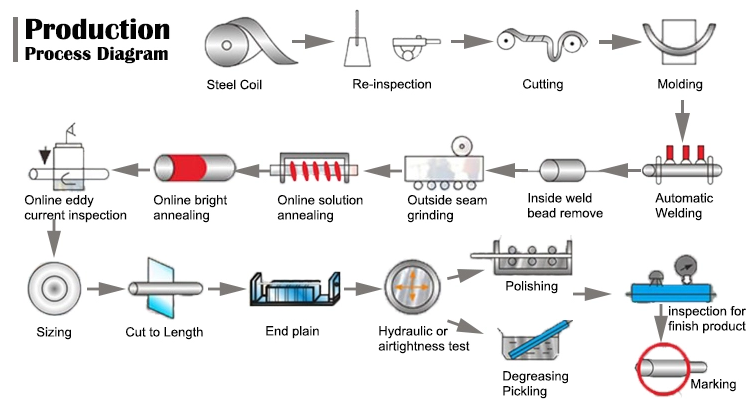 Stainless Steel Welded Pipe Tolerances
NPS Designator
Permissible Variations in Outside Diameter
Over In.
Under In.
1/8 to 1-1/2, incl
1/64 (0.015)
1/32 (0.031)
Over 1-1/2 to 4, incl
1/32 (0.031)
1/32 (0.031)
Over 4 to 8, incl
1/16 (0.062)
1/32 (0.031)
Over 8 to 18, incl
3/23 (0.093)
1/32 (0.031)
Nominal Wall Thickness:
| NPS Designator | Outside Diameter in. | Schedule 5S in. | Schedule 10S in. | Schedule 40S in. | Schedule 80S in. |
| --- | --- | --- | --- | --- | --- |
| 1/4 | 0.540 | | 0.065 | 0.088 | 0.119 |
| 3/8 | 0.675 | | 0.065 | 0.091 | 0.126 |
| 1/2 | 0.840 | 0.065 | 0.083 | 0.109 | 0.147 |
| 3/4 | 1.050 | 0.065 | 0.083 | 0.113 | 0.154 |
| 1.0 | 1.315 | 0.065 | 0.109 | 0.133 | 0.179 |
| 1 1/4 | 1.660 | 0.065 | 0.109 | 0.140 | 0.191 |
| 1 1/2 | 1.900 | 0.065 | 0.109 | 0.145 | 0.200 |
| 2 | 2.375 | 0.065 | 0.109 | 0.154 | 0.218 |
| 2 1/2 | 2.875 | 0.083 | 0.120 | 0.203 | 0.276 |
| 3 | 3.500 | 0.083 | 0.120 | 0.216 | 0.300 |
| 3 1/2 | 4.000 | 0.083 | 0.120 | 0.226 | 0.318 |
| 4 | 4.500 | 0.083 | 0.120 | 0.237 | 0.337 |
| 5 | 5.563 | 0.109 | 0.134 | 0.258 | 0.375 |
| 6 | 6.625 | 0.109 | 0.134 | 0.280 | 0.432 |
| 8 | 8.625 | 0.109 | 0.148 | 0.322 | 0.500 |
| 10 | 10.750 | 0.134 | 0.165 | 0.365 | 0.500 |
| 12 | 12.750 | 0.156 | 0.180 | 0.375 | 0.500 |
Download