Mild Steel / Shipbuilding Steel Plate
AH36, DH36, EH36 Steel Plate for Shipbuilding Steel Supplier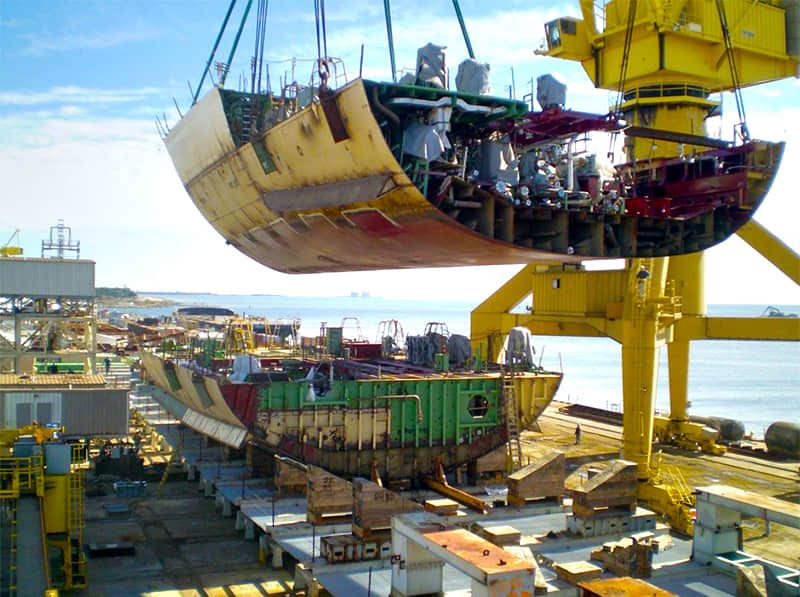 What is the Shipbuilding Steel Plate
Shipbuilding steel plate refers to hot-rolled steel for the manufacture of ship structures produced in accordance with the requirements of the construction society. Modern shipbuilding plates have much higher tensile strengths than their predecessors, making them much better suited to the efficient construction of large container ships.
The quality of shipbuilding steels has an extremely large impact on the quality, efficiency, and cost of ships built from those steels. Many steel producers established a system to supply wide and long plates to the shipbuilding industry.
Shipbuilding Steel Classification
The standard strength steel of China Classification Society is divided into four quality grades: A, B, C, and D, namely, CCSA, CCSB, CCSC, and CCSD. The high strength structural steel regulated by the China Classification Society is three strength grades and four quality grades.
Common grades are A, B, D, E, AH32/36/40, DH32/36/40, and EH32/36/40 which ranged from different strength. The plates usually used to manufacture ship hulls, bulkheads, upper decks and hatch covers for tankers, bulk carriers, container ships and LNG carriers.
For the high strength shipbuilding plates like AH36, DH36, EH36 steel plate, they have been widely used in high stress areas of ships, comparing with general strength steel, they are offering the same strength with the smaller thickness.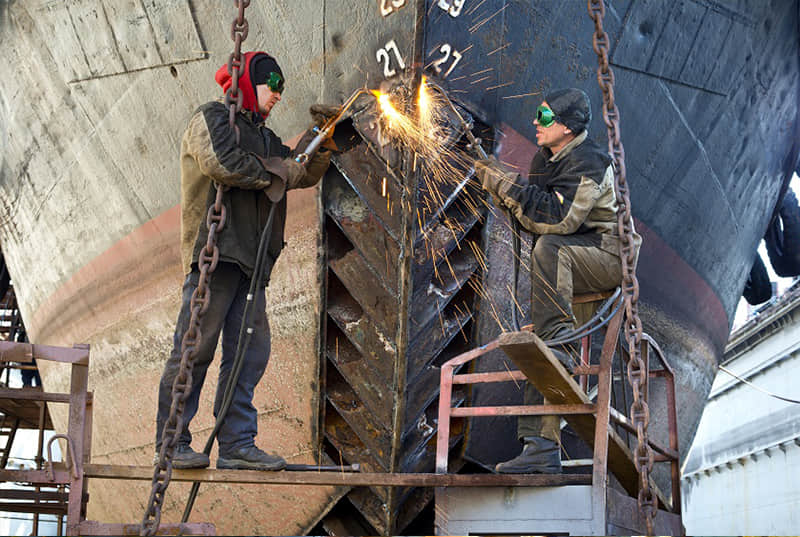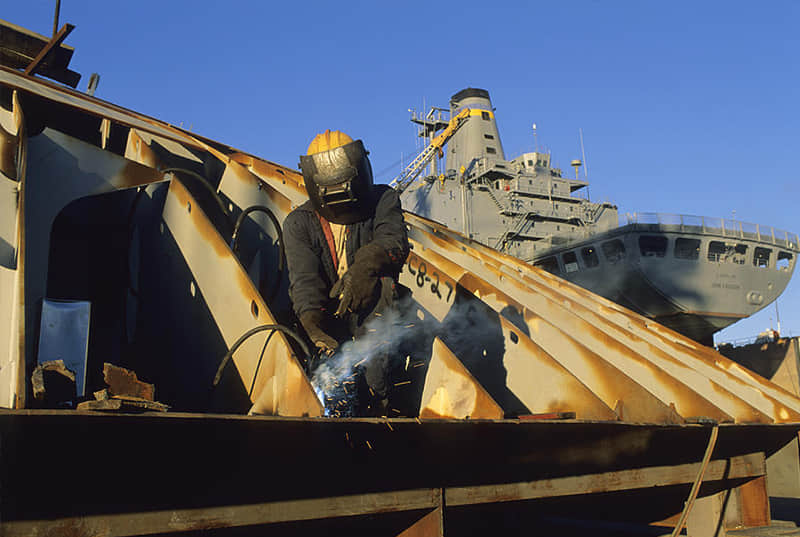 Shipbuiding Standards from Different Countries
Shipbuilding steel plates are produced according to the classification society,different countries refers to offshore and marine steels in different classification society. Mainly as following:
ABS (American Bureau of Shipping)
BV (Bureau Veritas)
CCS (China Classification Society)
DNV (Det Norske Veritas)
GL (Germanischer Lloyd)
HR (Hellenic Register of Shipping)
KR (Korean Register of Shipping)
LR ​(Lloyd's Register of Shipping)
NK (Nippon Kaiji Kyokai)
RINA (Registro Italiano Navale)
RS (India Register of Shipping)
Grade and Chemicals of shipbuilding plates
| Grade | C max | Si max | Mn | P max | S max | Als min |
| --- | --- | --- | --- | --- | --- | --- |
| A | 0.21 | 0.50 | ≥ 2.5C | 0.035 | 0.035 | - |
| B | 0.21 | 0.35 | 0.80-1.20 | 0.035 | 0.035 | - |
| D | 0.21 | 0.35 | 0.60-1.20 | 0.035 | 0.035 | 0.015 |
| E | 0.18 | 0.35 | 0.70-1.20 | 0.035 | 0.035 | 0.015 |
Shipbuilding Steel Plate Mechanical Properties
Grade
Thickness(mm) max
Yieldpoint(Mpa) min
Tensile Strength(Mpa)
Elongation(%)min
V-impact test
cold bend test
Temperature(℃)
Average AKV
b=2a 180°
b=5a 120°
lengthways Min
crosswise Min
A
50
235
400~490
22
—
—
—
d=2a
—
B
50
235
400~490
22
0
27
20
—
d=3a
D
50
235
400~490
22
27
20
—
d=3a
-10
E
50
235
400~490
22
27
20
—
d=3a
-40
A32
50
315
440~590
22
0
31
22
—
d=3a
D32
50
315
440~590
22
-20
31
22
—
d=3a
E32
50
315
440~590
22
-40
31
22
—
d=3a
A36
50
355
490~620
21
0
34
24
—
d=3a
D36
50
355
490~620
21
-20
34
24
—
d=3a
E36
50
355
490~620
21
-40
34
24
—
d=3a
Shipbuilding Plate Available Dimensions
| Item | Thickness (mm) | Width (mm) | Length/coil diameter(mm) |
| --- | --- | --- | --- |
| Shipbuilidng plate | 6~50 | 1300~3000 | 3000~15000 |
| Shipbuilidng coil | 6~20 | 1500~2000 | 760+20~760-70 |
Shipbuilding Steel Theoretical Weight
Thickness (mm)
Estimate Weight
Thickness (mm)
Estimate Weight
Kg/ft2
Kg/m2
Kg/ft2
Kg/m2
6
4.376
47.1
25
18.962
196.25
7
5.105
54.95
26
20.42
204.1
8
5.834
62.8
28
21.879
219.8
10
7.293
78.5
30
23.337
235.5
11
8.751
86.35
32
25.525
251.2
12
10.21
94.2
34
26.254
266.9
14
10.939
109.9
35
27.713
274.75
16
11.669
125.6
40
29.172
314
18
13.127
141.3
45
32.818
353.25
20
14.586
157
48
35.006
376.8
22
16.044
172.7
50
36.464
392.5
24
18.232
188.4
-
-
-
Dimensional Deviation
nominal thickness(mm)
minus deviation (mm)
The thickness deviation with following width (mm)
>1000 ~1200
>1200 ~1500
>1500 ~1700
>1700 ~1800
>1800 ~2000
>2000 ~2300
>2300 ~2500
>2500 ~2600
>2600 ~2800
>2800 ~3000
>12~25
-0.8
0.2
0.2
0.3
0.4
0.6
0.8
0.8
1
1.1
1.2
>25~30
-0.9
0.2
0.2
0.3
0.4
0.6
0.8
0.9
1
1.1
1.2
>30~34
-1
0.2
0.3
0.3
0.4
0.6
0.8
0.9
1
1.2
1.3
>34~40
-1.1
0.3
0.4
0.5
0.6
0.7
0.9
1
1.1
1.3
1.4
>40~45
-1.2
0.4
0.5
0.6
0.7
0.8
1
1.1
1.2
1.4
1