corten steel metal planter for outdoors
Tall corten steel metal planters for outdoors
Tall and Large planters are deep enough for larger plants
Finihed with drainage holes
Suitable for outdoor
Why Corten steels
This kind metal planter is made of corten steel. With excellent corrosion resistance, corten steel is An idea steel for garden, it becomes harder and stronger when exposed to weather over time. As it is big enough, you can plant different kinds of flowers and plants in it. What's more, you do not need to worry about cleaning matter and its lifespan.
Corten Steel Planter is designed in simple but practical,it is wildly welcomed in Australia and European countries.
Corten steel specifications
| Features | Detail |
| --- | --- |
| Product Type | Planter box |
| Pattern Design | Customized, ODM Design |
| Color | Rust or Coating as customized. |
| Location | Outdoor Use |
| Material | Corten Steel |
| Capacity (16" H x 32" W x 10" D Size) | 2688 Fluid Ounces |
| Capacity (16" H x 32" W x 10" D Size) | 3840 Fluid Ounces |
| Capacity (13" H x 25" W x 11" D Size) | 1792 Fluid Ounces |
| Capacity (16" H x 60" W x 15" D Size) | 7500 Fluid Ounces |
| Drainage Holes | Yes |
| Frost Resistant | Yes |
| Weather Resistant | Yes |
| Handmade | Yes |
| Thickness | 1.5mm~6.0mm, etc. |
| Supplier Intended and Approved Use | Residential Use; Non Residential Use |
| Country of Origin | China |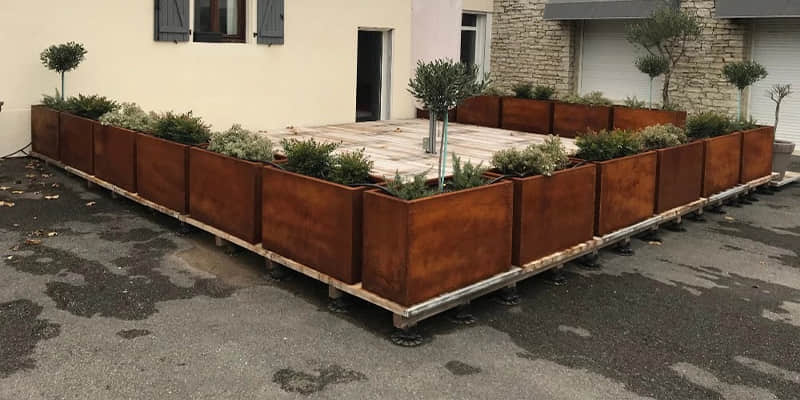 Different styles of corten steel
Corten Steel Garden Planter Bed
The planter bed is shaped from metal by skilled craftsmen utilizing precise folding of the metal to create a planter bed that assembles into a rectangular shape from panels. Planter bed panels assemble to form an incredibly solid plant container that provides maximum planting area.
Size commonly is 900*400*300mm, also customized design is acceptable.
Most of all, the planter bed is simple, modern and minimalist. Corten Steel planter beds do not ship pre-rusty and will arrive with the bare steel finish which will have to weather over time to develop a golden brown rust color and texture.
Place planter bed on grass or gravel during weathering process to avoid staining to adjacent material.
Wall Hanging Metal Planter
Shape could be Circle, Square, Rectangle.
customized sizes are acceptable.
Circle size is Diameter.450*150mm
Sphere size is Diameter 600mm and 800mm.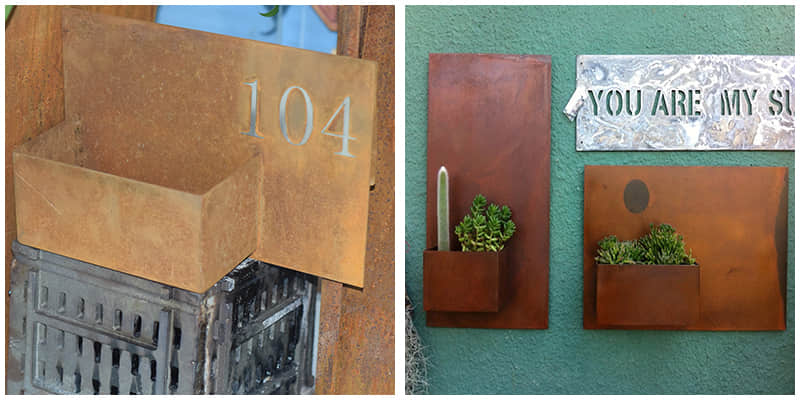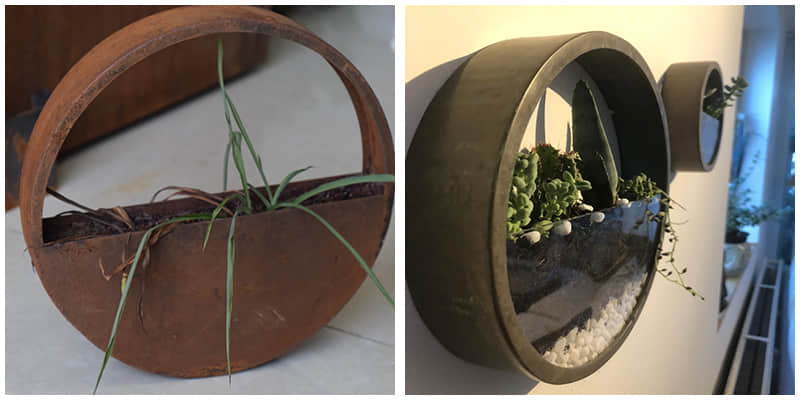 FAQ
Q: "How to prevent the surface from staining?" asked by Jack
A: "It is recommended to use a base with the planter to prevent the surface from staining.
Q: "How to protect the metal from erosion?" asked by Vivi
A: A clear coat of urethane can be applied to the planter to prevent from rusting further. The corten steel planters are designed to rust over time and will never completely rust through.
Q: "What is the material of the feet holding up this planter box made of?" asked by Emily.
A: The riser feet on the planter box is made from Corten steel.
Q:"Is the planter safe to use for edible plants?" asked by Peter
A:"Yes, the planter is safe to use for edible plants.
Q:"Does the rust rub off on clothing?" asked by Mary
A:Yes, the rust rubs off on clothing.
Download