Mild Steel / Carbon Steel Plate
Medium and low Carbon Hot Rolled Mild Steel Plates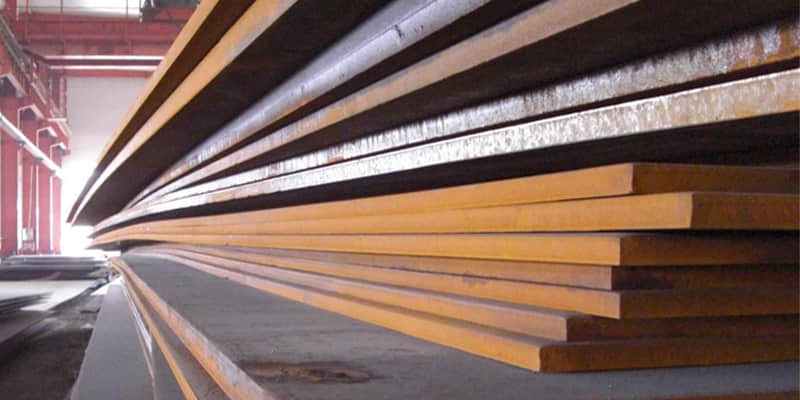 What is Carbon Steel Plate
A carbon steel plate has usually been considered as the steel that does not contain much alloy steel elements, also named as mild steel. Generally, elements are C, Mn, P, S, Si, besides these, there are no minimum limits for elements of Al, Cr, Ni, Mo, V, etc.
Carbon steel plates are available in different grades depending on the carbon content and strength.
Low carbon steel is the most common form, and it's very malleable and ductile. Medium carbon steel balances ductility as well as strength for excellent wear resistance. High carbon steel is exceptionally strong, while ultra-high carbon steel can be tempered to even greater hardness but no malleability.
As the percentage of carbon gets larger, steel can become harder and stronger through heat-treating. Carbon steel is usually heated to change the mechanical properties of steel, usually ductility, hardness, strength, and resistance of impact. Increasing the carbon content of carbon steel makes it harder and stronger, but reduces the steel's ability to be welded, making it more brittle.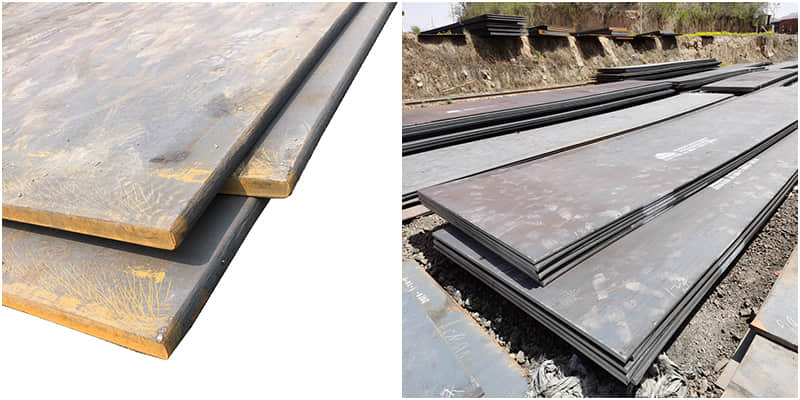 Carbon content levels for each of mild steel plate
As the content of Carbon increase, the steel plate hardness increases.
Low carbon steel plate: For carbon content 0.06% to 0.25%, also we call it mild steel plate.
Medium carbon steel plate: C content from 0.25% to 0.55%.
High carbon steel plate: 0.55% to 1.0%, also called hard steel plate.
Steel standard
ASTM A36, ASTM A283, ASTM A572, ASTM A656, ASTM A131, ASTM A516, JIS G3101 SS400, JIS G3106 SM400.
Delivery state
Hot rolling, controlled rolling, normalizing, annealing, tempering, quenching, NT and hardening and tempering.
Surface treatment
Oiled, black painted, shot blasted, hot dipped galvanized.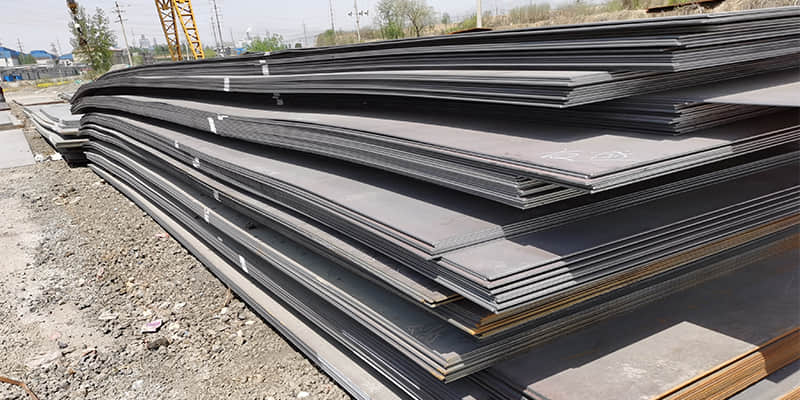 milde Steel Plates Application
Carbon steel sheet metal is most often used for structural purposes such as buildings, yet it has the flexibility to be worked into ornate designs. Low carbon steel sheet (wrought iron) is typically used for fences, chain links, gates, and railings. Structural steel (medium carbon steel) is used in cars, refrigerators, washing machines, buildings, and bridges. The steel sheets are normally made up of medium carbon steel.
| Grade | Applications |
| --- | --- |
| ASTM A36 | construction of bridges and buildings, and general structural purposes. |
| ASTM A283 | Bridge, architecture construction, vehicles components, high pressure container and boiler. |
| ASTM A572 | Shipping building, engineer construction, mechanical manufacturing. |
| ASTM A656 | Boiler and pressure vessel construction. |
| ASTM A131 | Ship building, construction, light industry, household appliance |
| ASTM A516 | Steel container, steel boiler and steel vessel. |
| JIS G3101 | Bridge, ship building. |
| JIS G3106 | Welded structure purposes of bridge, ships, highway, etc. |