Wear Plate
Grade: HARDOX400,HARDOX450,HARDOX500,NM360,NM400,NM450,NM500,B-HARD400,B-HARD450,B-HARD500
Specification: (can customized by request)
Thickness: 1/8″ ~ 4″
Width*Length: 48″ x 96″~96″ x 288″
What Is Wear Plate ?
Wear plate also called abrasion resistant steel plate, AR steel plate, is a high-carbon alloy steel plate which is specifically designed for abrasion and wear resistant applications, such as underground mines, cement industry, road construction, mining and open-pit mining and metallurgical industries and manufacturing other wear-resistant parts. So now, wear steel is developed to have longer service life than mild steels.
Wear plate has a lower hardness of 360 – 444 BHN. As with other abrasion resistant steels, it does not have a defined chemistry, but rather, the grade of AR steel plate is determined by hardness.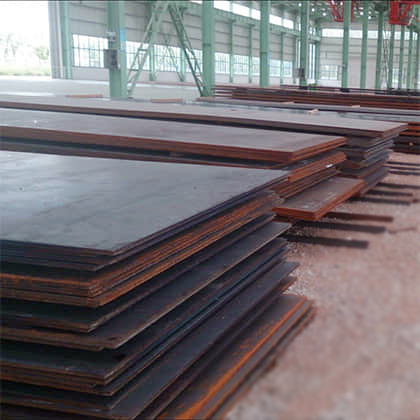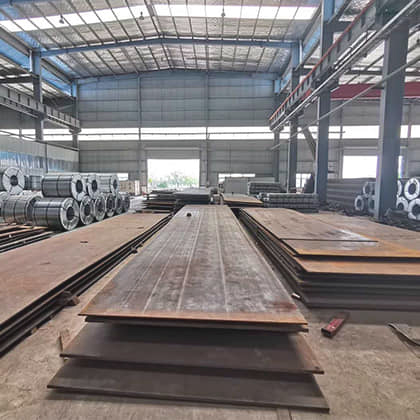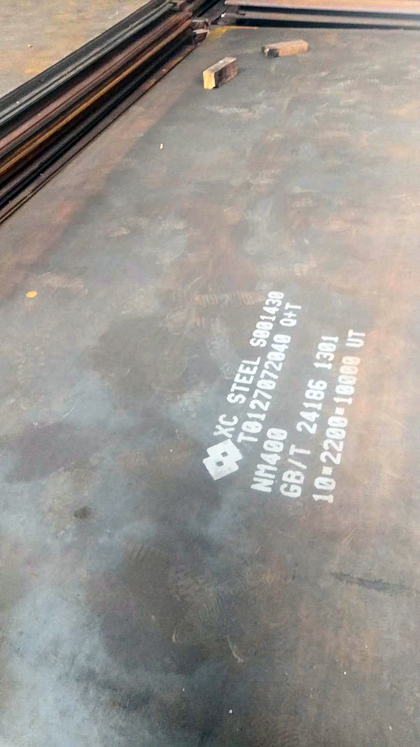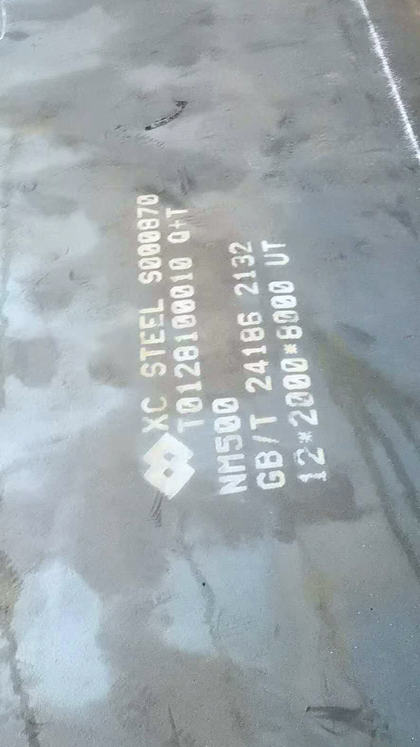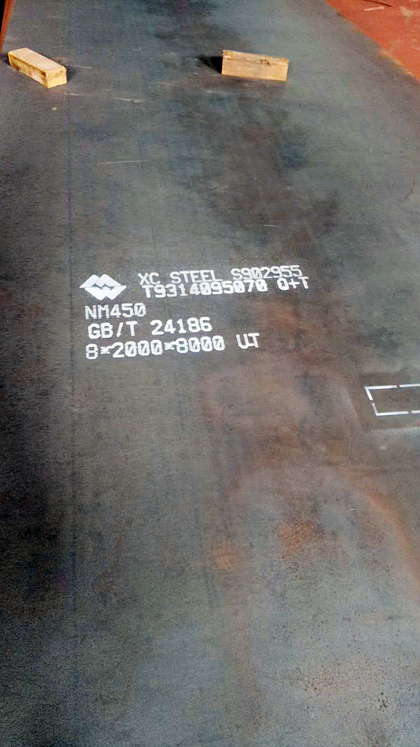 Benefits of AR400 Steel Plate
When zeroing in on what abrasion resistant steel is best for your applications, it's important to note that each grade reacts differently to many fabricating processes. AR steel plate like wear plate 450 and wear plate 500, is excellent for applications in which abrasion resistance, formability, weldability is a must. Abrasion resistant steel plate has great advantages in the following aspects:
Three times the strength as mild steel
Low cost
Reduces maintenance costs
Wear-resistant for temperatures under 250°C
Through-hardness
Grades of Wear Steel Plate
Steel Standard
Steel Grades
Sweden
HARDOX400
HARDOX450
HARDOX500
HARDOX600
SB-50
SB-45
Germany
XAR400
XAR450
XAR500
XAR600
Dillidur400V
Dillidur500V
Bao Steel
B-HARD360
B-HARD400
B-HARD450
B-HARD500
China
NM360
NM400
NM450
NM500
Finland
RAEX400
RAEX450
RAEX500
Japan
JFE-EH360
JFE-EH450
JFE-EH500
WEL-HARD400
WEL-HARD500
Belgium
QUARD400
QUARD450
QUARD500
France
FORA400
FORA500
Creusabro4800
Creusabro8000
From the chart, we can see Hardox Steel plate is international well known wear resistant steel brand, it is specified into HARDOX400, HARDOX450, HARDOX500, HARDOX600, SB-50, SB-45, it has very well abrasion resistance property for common uses and special applications.
Applications of Wear Resistant Plate
Construction Machinery: Road paver screed/ transport board /excavator/loader bucket blade plate/ bulldozer & bulldozing plate/grader blade/Asphalt concrete mixing plant liner and blade/tunnel construction equipment, and All kinds of grab, ship unloader and material conveyor etc.
Mining Machinery: Front loader /Dump truck /Buffer bin /Rail road car /Discharge site /Transfer chute /Feeder /Screener /Crusher /Conveyor/Measuring bin /Skip
Metallurgical Machinery: Dump Truck Liners/ Material Transfer Chute Liners/ Storage Bin Liners/ Bucket Liners/ Hoppers
Thermal Power Plant :Pulverizer lining, bucket wheel, coal hopper, pulverized coal conveying pipe, coal powder distributor grating, coal unloading equipment liner and so on.
Wear Resistant Steel Plate Properties
Chemical Composition(Max):
| Material | C | Si | Mn | P | S | Cr | Ni | Mo | Ti | Bt | Als | CEV |
| --- | --- | --- | --- | --- | --- | --- | --- | --- | --- | --- | --- | --- |
| NM300 | 0.23 | 0.70 | 1.60 | 0.025 | 0.015 | 0.70 | 0.50 | 0.40 | 0.050 | 0.0005-0.0006 | 0.010 | 0.45 |
| NM360 | 0.25 | 0.70 | 1.60 | 0.025 | 0.015 | 0.80 | 0.50 | 0.50 | 0.050 | 0.0005-0.0006 | 0.010 | 0.48 |
| NM400 | 0.30 | 0.70 | 1.60 | 0.025 | 0.010 | 1.00 | 0.70 | 0.50 | 0.050 | 0.0005-0.0006 | 0.010 | 0.55 |
| NM450 | 0.35 | 0.70 | 1.70 | 0.025 | 0.010 | 1.10 | 0.80 | 0.55 | 0.050 | 0.0005-0.0006 | 0.010 | 0.60 |
| NM500 | 0.38 | 0.70 | 1.70 | 0.020 | 0.010 | 1.20 | 1.00 | 0.65 | 0.050 | 0.0005-0.0006 | 0.010 | 0.65 |
| NM550 | 0.38 | 0.70 | 1.70 | 0.020 | 0.010 | 1.20 | 1.00 | 0.70 | 0.050 | 0.0005-0.0006 | 0.010 | 0.72 |
| NM600 | 0.38 | 0.70 | 1.90 | 0.020 | 0.010 | 1.50 | 1.00 | 0.70 | 0.050 | 0.0005-0.0006 | 0.010 | 0.76 |
Mechanical Properties:
| Material | Tensile MPA | Elongation % | Impact energy -20ºC | HBW |
| --- | --- | --- | --- | --- |
| NM300 | ≥1000 | ≥14 | ≥24 | 270-300 |
| NM360 | ≥1100 | ≥12 | ≥24 | 330-390 |
| NM400 | ≥1200 | ≥10 | ≥24 | 370-430 |
| NM450 | ≥1250 | ≥7 | ≥24 | 420-480 |
| NM500 | ≥1250 | ≥7 | ≥24 | ≥470 |
| NM550 | ≥1250 | ≥7 | ≥24 | ≥530 |
| NM600 | ≥1250 | ≥7 | ≥24 | ≥570 |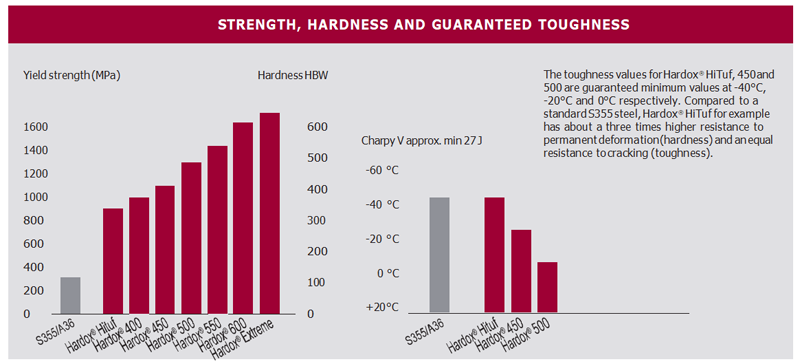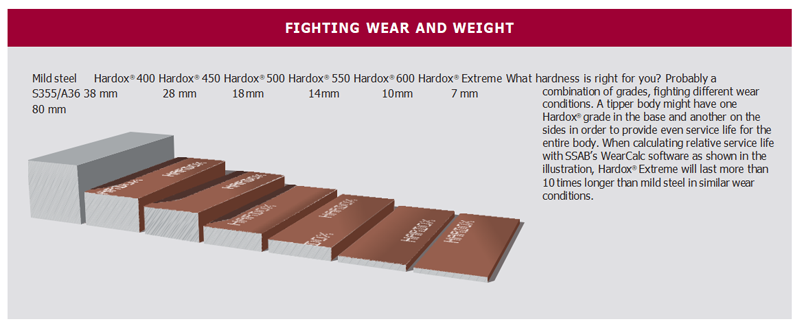 Mechanical Properties of AR400 Wear Plate
Brinnell Hardness – 400/440 BHN
Tensile Strength – 180,000 PSI
Yield Strength – 140,000 PSI
Grain Type – Temp. Martensite
Carbon Equivalency – .47
Elongation– 15%
Reduction of Area – 60%

In addition to its general characteristics of being formable, while maintaining good abrasion resistance, AR400 steel plate also has the following mechanical properties levels:
Machining = Fair
Bending = Good
Corrosion Resistance = Good
Welding = Excellent
Wear Resistance = Great
Excellent resistance to both impact and sliding abrasion at a moderate cost.
Recommended for: liners for mining and material handling equipment like dump trucks, material transfer chutes, storage bins, buckets, and hopper
.125"-.315 offered in 48"-65" wide cut to your requested length
.375"-2.00" offered in standard sizes (96" X 240"/288")
Inspection Certificate of Abrasion Resistant Steel Plate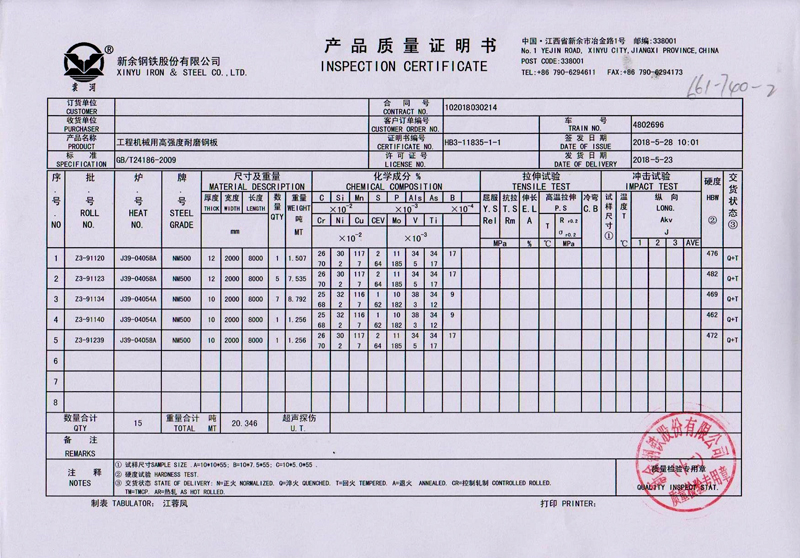 Download