BBQ grill
Outdoor Corten steel BBQ griddle and grill
A new dimension of grill with fun on fire
When it is time to get together with friends and family, this stylish piece of art transforms into a warm center that gives everyone so much fun on fire.
The outdoor corten steel BBQ is such a functional piece of art designed to enhance outdoor cooking with entertainment, beauty, warmth, and DIY experience.
It is more practical and stylish than a normal barbecue and its simple, classic lines work in harmony with any setting, from country lawn to a chic restaurant terrace.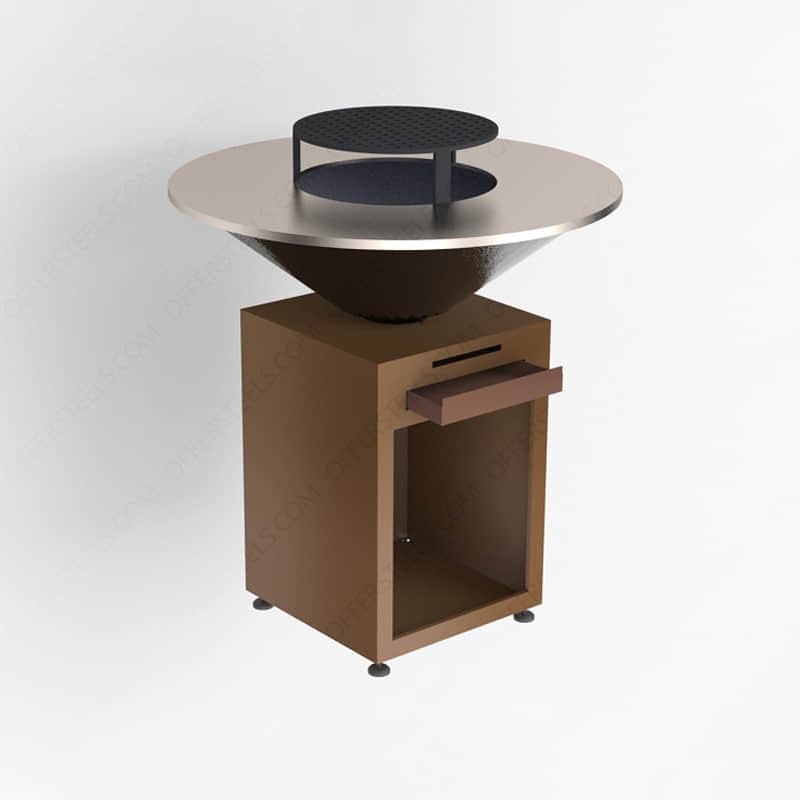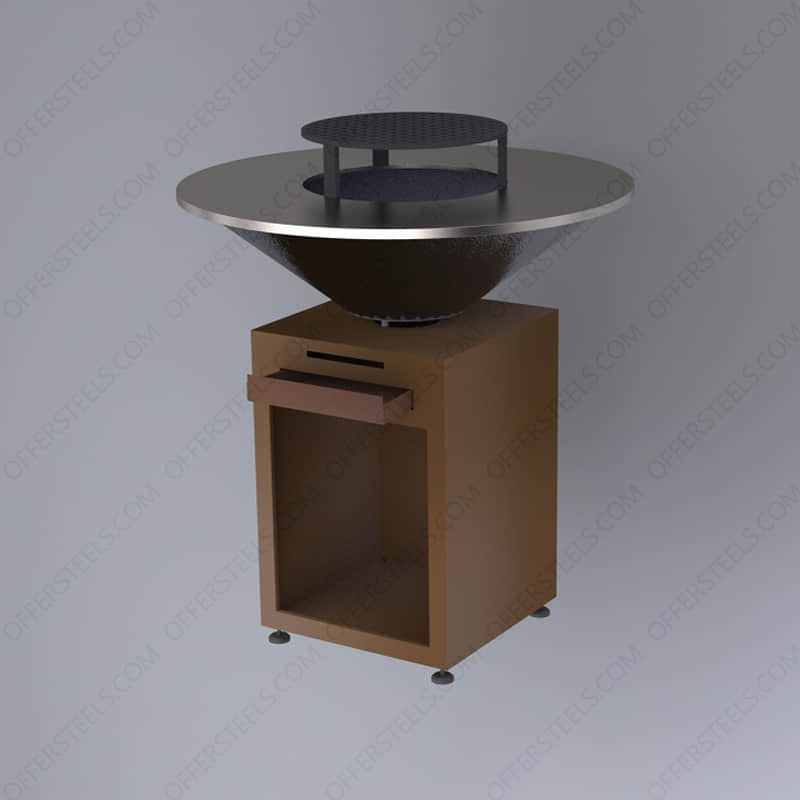 Enjoy the outdoor BBQ as a finest community experience now
The AHL CORTEN bbq grill brings people together in the same way as a traditional campfire. The wood-fired bowl emanates cosy heat within a two-meter radius so that you can cook and eat outdoors even in cold winter.
The AHL CORTEN steel grill has an innovative, round design, that makes itself perfectly for several cookers preparing food for many clients at the same time.
It is a perfect chance for friends and family gather together, relax themselves and enjoy doing the cooking. Whether you are close friends or unfamiliar colleague, there is no doubt that outdoor BBQ cooking is the finest community experience.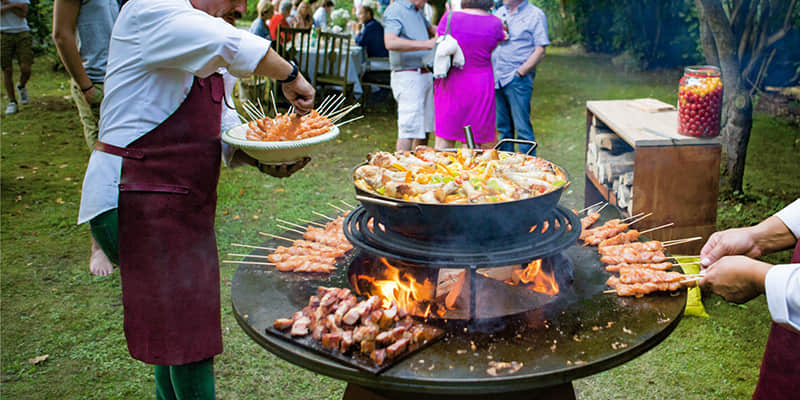 Some facts about AHL CORTEN BBQ Grill
With a barbecue made of corten steel, you are choosing a particularly durable and stylish model that will delight you with numerous advantages.
1.Unique design
AHL CORTEN's unique design makes it an incredibly versatile cooker. The cone shaped fire bowl has a wide, flat rim, which also serves as a very efficient cooking area. The temperature emanates from the middle to the edge so that one cooking plate has multiple cooking temperatures.
2.Large cooking area
The 10 mm thickness griddle is available with a diameter of 100 cm or 85 cm. The plate is heated to approximately 300˚C by the wood fire (you can also use charcoal but this doesn't look at good as there are no flames). Put some oil on the plate and start cooking. It has a very large cooking area: the plate has a diameter of 100 cm which makes it possible to cook food for 50 people.
3.Long-lasting
Corten steel (trade name COR-TEN steel) is a weather-resistant structural steel, which is a kind of long-lasting materials barely needs maintenance. The dense barrier layer firmly adhering sulfates or phosphates on the surface through weathering, under the actual rust layer, which protects the steel part from further corrosion.
4.Easy to Use, Easy to Clean
Unlike other outdoor cookers, AHL CORTEN steel barbeque grill is very easy to clean and virtually maintenance-free. Food scraps and excess oil can go straight into the fire. The griddle can be easily cleaned with a spatula. Simply wipe it down with a damp cloth, your grill and griddle are ready to use again.
5.Easy to Install, Easy to Move
Thanks to its three-part modular design, AHL CORTEN bbq grill is easy to move and install. The 3 parts including: cooking plate, fire bowl, and base, which can be lifted and moved separately. The cone has a 2 cm hole for the easy drainage of rainwater.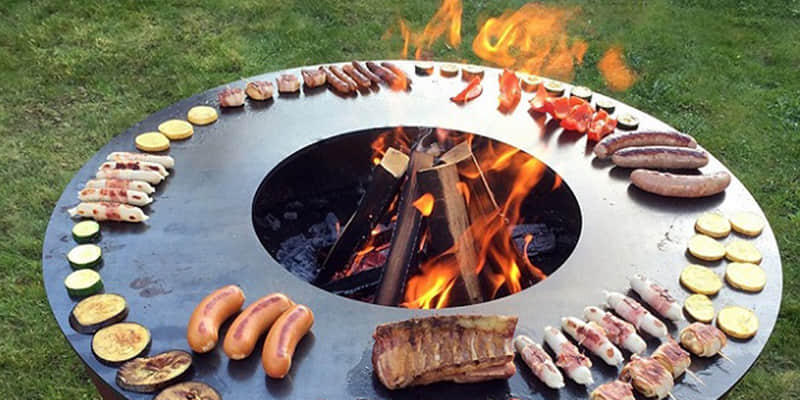 Top Sale Corten BBQ Grill Details
Product name
Corten steel outdoor fire pit BBQ grill
Product Number
AHL-CORTEN BG2
Material
Corten steel, carbon steel
Dimensions
100cm L x 100cm W x 100cm H
85cm L x 85cm W x 100cm H
Surface
Rusted or coated
Weight
About 120 KG
Application
Outdoor Or Courtyard Decor
Services
Every fire pit can be customizable in sizes, patterns, your logos and names can be cut on them too.

We can offer
21 types of BBQ grills with CE certificate
Customizing design is acceptable
Can be used as barbecue and fire pit
Easy transport and install: three-part modular design
The base has a handy space for wood storage
Can stay outdoors in all seasons
Available in various sizes
OEM is acceptable
AHL-CORTEN CE Certificate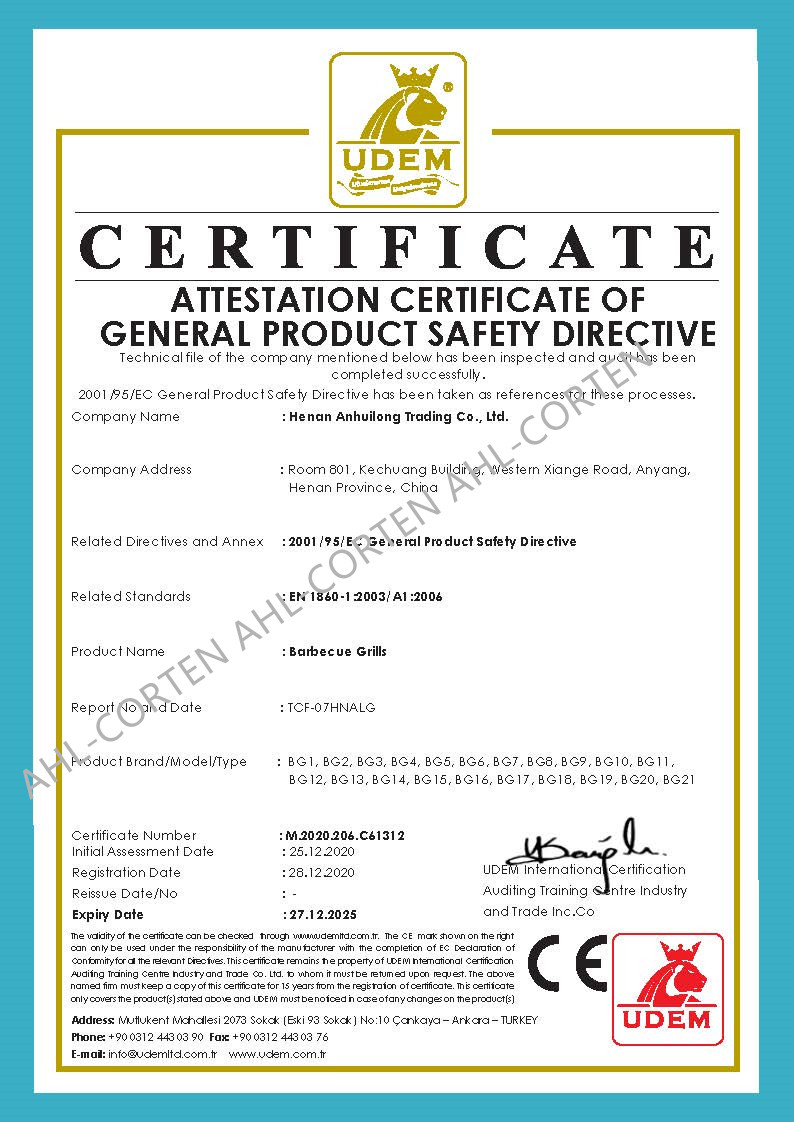 Other styles that you may interested
The AHL-CORTEN fire bowl barbecue grills are available in various sizes. Both the height of the base and the diameter of the fire bowl can be chosen. Please contact us for more information.
No.
DESCRIPTION
IMAGE
SIZE(CM)
SURFACE
WEIGHT KG
BG1
Carbon steel
Cooking plate: 10mm Base:2mm
100(D)*100(H)
High Temperature Black Painted
115
85(D)*100(H)
83
BG2
Corten steel
Cooking plate: 10mm Base:2mm
100(D)*100(H)
Rust
105
85(D)*100(H)
73
BG3
Carbon steel
Cooking plate: 10mm Base:2mm
100(D)*130(L)*100(H)
High Temperature Black Painted
162
85(D)*130(L)*100(H)
122
BG4
Corten steel
Cooking plate: 10mm Base:2mm
100(D)*130(L)*100(H)
Rust
152
85(D)*130(L)*100(H)
112
BG5
Corten steel
Cooking plate: 10mm Base:2mm
100(D)*90(H)
Rust
115
BG6
Corten steel
Cooking plate: 10mm Base:10mm
100(D)*90(H)
Rust
135
BG7
Carbon steel
Cooking plate: 10mm Base:2mm
100(D)*90(H)
High Temperature Black Painted
135
BG8
Corten steel
Cooking plate: 10mm Base:2mm
100(D)*90(H)
Rust
125
BG9
Carbon steel
Cooking plate: 10mm Base:2mm
100(D)*90(H)
High Temperature Black Painted
135
BG10
Corten steel
Cooking plate: 10mm Base:2mm
100(D)*90(H)
Rust
125
BG11
Corten steel
Cooking plate: 8mm Base:2mm
100(D)*70(H)
Rust
112
BG12
Corten steel
SS Cooking plate: 8mm Bowl:4mm
100(D)*70(H)
Rust
125
BG13
Corten steel
Cooking plate: 10mm Bowl:4mm
100(D)*53(H)
Rust
117
BG14
Carbon steel
Cooking plate: 10mm Base:2mm
70(D)*130(L)*90(H)
High Temperature Black Painted
176
BG15
Corten steel
Cooking plate: 10mm Base:2mm
70(D)*130(L)*90(H)
Rust
176
BG16
carbon steel&
Stainless steel
35(D)*70(L)*90(H)
High Temperature Black Painted
62
BG17
Corten steel
Cooking plate: 10mm Bowl:4mm
100(D)*30(H)
Rust
105
BG18
Corten steel
Cooking plate: 10mm Base:2mm
100(D)*90(H)
Rust
115
BG19
Corten steel
Cooking plate: 10mm Base:2mm
100(D)*82(H)
Rust
101
BG20
Corten steel
Cooking plate: 10mm Base:2mm
100(D)*82(H)
Rust
70
Including Necessary Accessories




Flat Grid

Raised Grid

Handle
Download