garden bollards lights
Bright your garden with bollards lights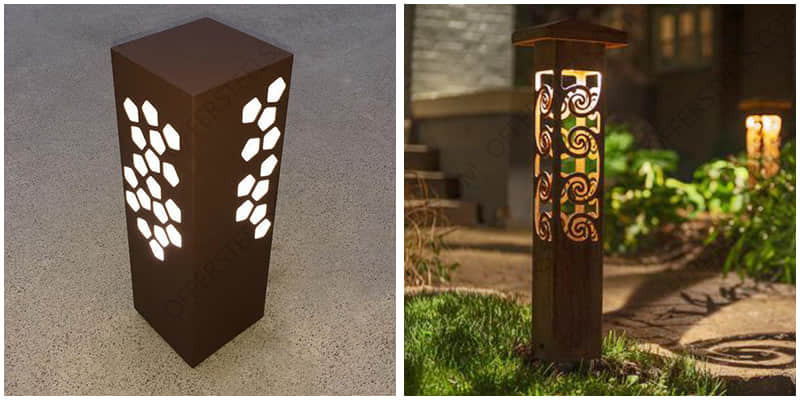 Bollard light, also called post light, garden light, is a kind of light stand along the pathway or in the lawn. If you're choosing outdoor LED lighting, the waterproof outdoor light with low maintenance and low price should be your first choice.
As a CORTEN steel garden features professional manufacturer, AHL CORTEN is producing high-quality bollards lights including LED garden post light, outdoor garden light with popular style and factory price.
Bollard light: an ornament and a light
Bollard light is not just a lighting device that bright your garden, with more and more fantastic designs, garden light has become a beautiful ornament, whether in daytime or at night, it can present opposite atmosphere in outdoor space.
AHL-CORTEN's new LED garden post lights provide light with shadow art, which can create vivid night designs on any landscape surface. The lamp post not only creates exquisite shadow art, but also creates a focal point that can be added to any landscape lighting system. During the day, they are works of art in the yard, and at night, their light patterns and designs become the central focus of any landscape.
If you are interested in any kind of garden light, kindly see our catalogue in the end.
Why choose Corten steel to make garden lights?
The AHL CORTEN bollards lights are made of American grade strong Cor-Ten steel, also known as weathering steel. It is a corrosion-resistant steel that can form an outer layer of patina without coating. This patina protects steel from additional corrosion. As time pass by, Corten steel garden lighting equipment will rust, which will add beautiful artistic elements to your landscape design day and night.
Benefits of corten steel LED bollard light
Energy saving
Maintenance cost reduction
Lighting performance
What is the regular dimension?
Width: 120*120mm for the light's column
Height: 40cm, 60cm, 80cm, or other custom sizes.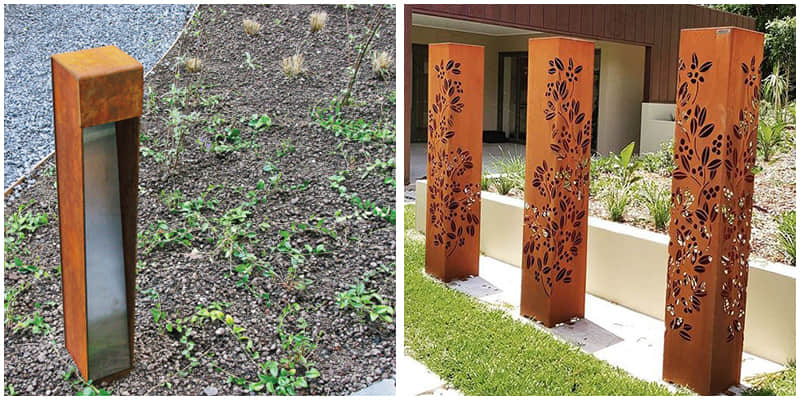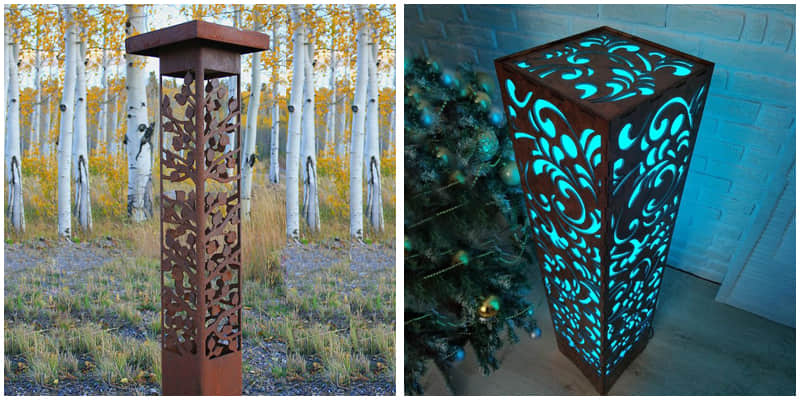 AHL CORTEN Bollard Light Brochure
AHL CORTEN Steel Bollard Light Catalog
NO.
Name
Image
Standard Size/mm
Surface
1
AHL-LB01
120(D)*120(W)*500(H)
rusted and powder coating
120(D)*120(W)*800(H)
2
AHL-LB02
114(D) *800(H)
rusted and powder coating
114(D) *1100(H)
3
AHL-LB03
149(D)*602(H)
Powder coating
149(D)*256(H)
4
AHL-LB04
150(D)*200(H)
Powder coating
150(D)*600(H)
150(D)*900(H)
5
AHL-LB05


150(D)*150(W)*500(H)
rusted and powder coating
6
AHL-LB06
120(D)*150(W)*500(H)
rusted and powder coating
120(D)*150(W)*800(H)
7
AHL-LB07


120(D)*120(W)*1200(H)
rusted and powder coating
8
AHL-LB08


127(D)*127(W)*788(H)
rusted and powder coating
9
AHL-LB09


120(D)*120(W)*1200(H)
rusted and powder coating
10
AHL-LB10
150(D) *500(H)
rusted and powder coating
150(D) *700(H)
11
AHL-LB11


150(L)*150(W)*600(H)
Powder coating
12
AHL-LB12
300(D)*300(W)*300(H)
rusted and powder coating
300(D)*300(W)*600(H)
13
AHL-LB13


200(L)*200(W)*200(H)
Rust
14
AHL-LB14


160(D)*380(H)
Rust
15
AHL-LB15
150(D)*150(W)*500(H)
rusted and powder coating
150(D)*150(W)*800(H)
150(D)*150(W)*1200(H)
16
AHL-LB16


200(L)*200(W)*1000(H)
Rust
17
AHL-LB17


200(D)*600(H)
Rust
Download