Happy life with happy BBQ
2020 and 2021 are unique to everyone in the world, due to the world spread of COVID virus, we have no choice but stay at home. Restaurants are locked down, every day we work and cook at home, I believe that most of the people are bored of homemade meals and really miss delicacy. Barbecue is on the top of the wishing list, many people are hoping enjoy BBQ as soon as possible.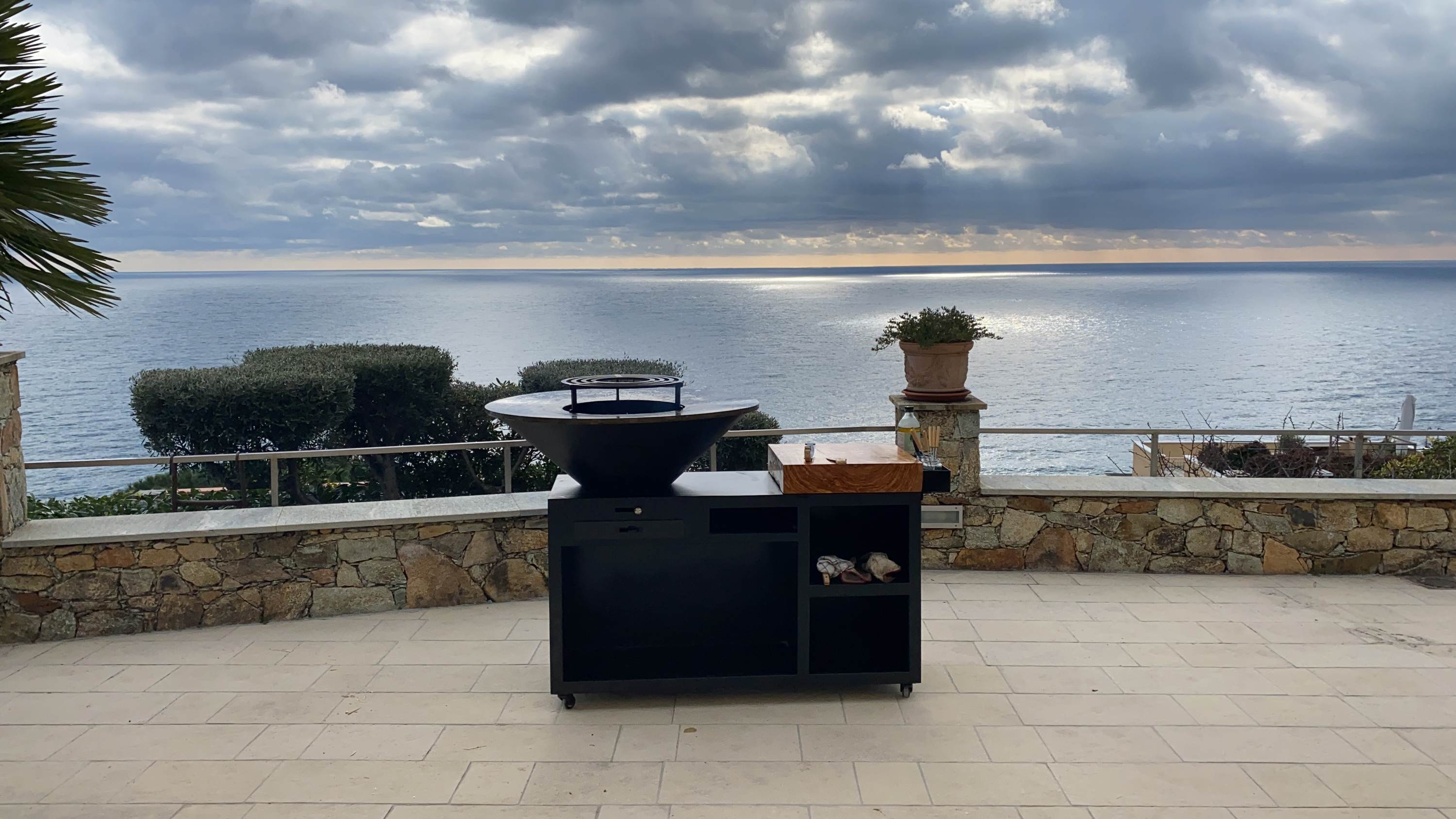 Enjoy outdoor cooking with corten steel BBQ grill
It is an easy dream that can be fulfilled, you just need a fire pit BBQ grill in the yard. Speak of fire pit, there can be many different kinds of materials, such as traditional stone grill and firepit. Recently, the most popular and long-lasting material is corten grill. Corten bbq grill is an ideal and versatile cooker in outdoor, it is a great alternative to stone grill, which is difficult to move and tend to break in changeable weather. While corten bbq grill is extremely resistant to changing weather conditions due to the properties of corten steel.
Corten steel is also known as weathering steel, it has lower maintenance cost and longer service life due to the thin layer of rust on the surface, this layer is extremely tight, durable and prevent the metal from outer element. It is original silver-gray finish but it takes on a beautiful and unique bronze patina when exposed to outdoor environment. So corten steel has become landscape architectures' preference considering its excellent performance and aesthetic appearance.
AHL is focused on manufacturing corten steel bbq grill for more than 10 years. With modern design and advanced technology, AHL bbq grill has an innovative, round design which allows people sitting together and create unforgettable memories.
Different types of AHL BBQ grill
The corten bbq grill is generally composed of two parts: the fire bowl and the woodshed. The fire bowl is commonly cone shaped; the woodshed is commonly rectangular shaped. Here we list two types of bbq grill that are best sell.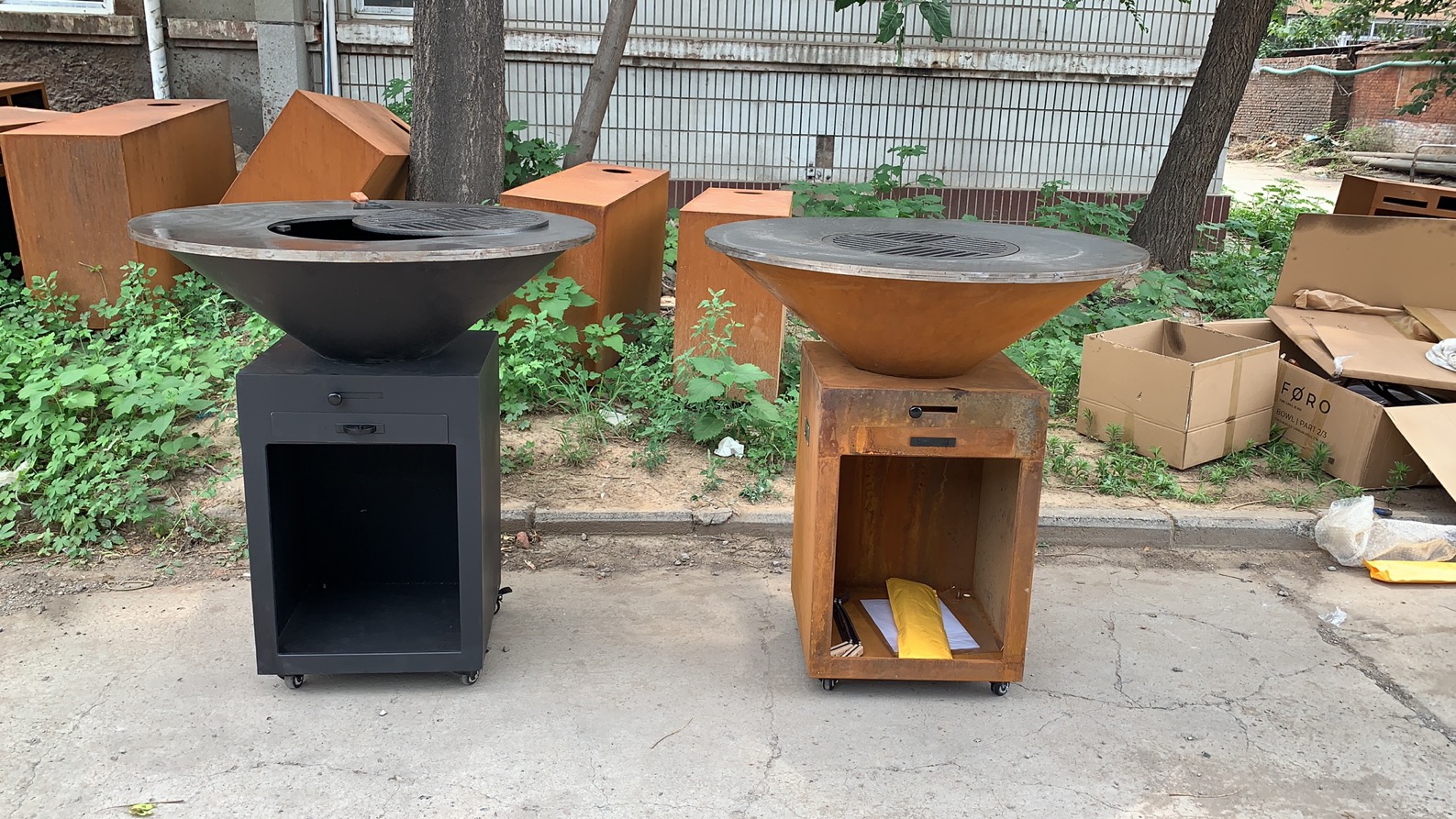 AHL type BG1 black BBQ grill is a unique line of grills for those who require a more concise and modern style. Unlike regular corten rust surface, black BBQ grill is coated with a high temperature paint that gives it distinguished matte black finish.
The other top sale is BG2 BBQ grill, which has tall base and round cook plate on the top. Building a wood or charcoal fire in the center of the grill, the cook top heats from the center out. This heat pattern results in higher cooking temperatures closer in as compared to the outer edges so a variety of foods can be cooked at various temperatures all at the same time.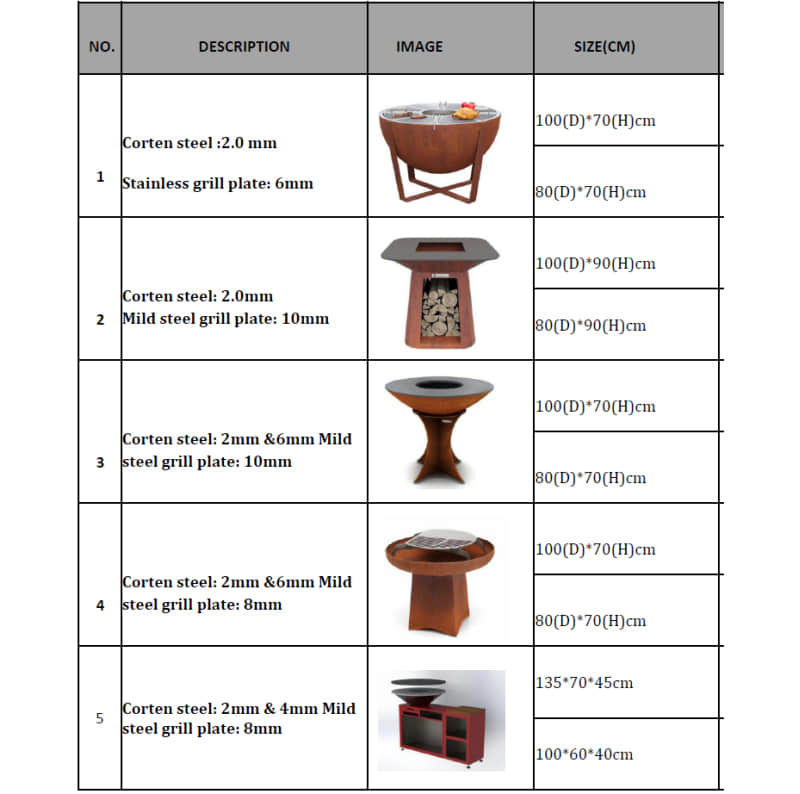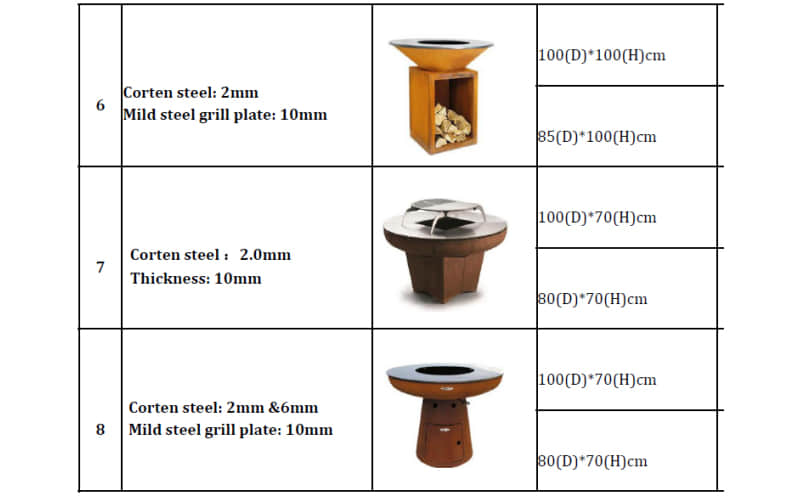 Why should you choose AHL BBQ grill?
Easy to use
The cook plate as thick as 10mm which can be heated to about 300˚C by the wood fire. Whether you are frying eggs, grilling pork, or cooking vegetables, AHL corten BBQ grill is easily controlled. Just put some oil on the food, fire the wood or charcoal, then you can wait for delicious food. We have small diameter and large diameter as 100cm plate as well, which allows to cook food for 50 people at the same time.
Easy to maintain
Different with other kinds of outdoor cookers, AHL corten steel BBQ grill firepit is easy to clean and maintain, it can be stored in outdoors without worries. Its structure is simple which allow food scraps and excess oil go straight into the fire, the body of the grill can be easily cleaned. The corten material ensure the BBQ grill resist all kinds of climate.
Easy to move
AHL bbq grill is easy to move thanks to its three-part modular design, the cooking plate, fire bowl, woodshed base. The total weight is not heavy so that you can move to anywhere you want. In addition, the cone has a 2cm hole for the drainage of rainwater.