310/310S stainless steel pipe
What is 310 Stainless steel Pipe?
Grade 310 is an austenitic stainless steel, which offers exceptional high temperature properties, along with good ductility and weld ability. Type 310
stainless steel tubes
are typically used for elevated temperature applications. High chromium and nickel content of 310 grade steel pipes provides excellent high temperature oxidation resistance and are good for continuous exposure to 2100 degree F Intermittent service to 1900 degree F. The higher chromium and nickel content, also makes it superior to 304 or 309 stainless hollow sections.
Grade 310S is a low carbon alternative of grade 310. It is used in a lower temperature range when the application environment involves moist corrodents. However, the lower carbon content reduces the high temperature strength of stainless steel grade 310S compared to 310.
AHL STEEL specialize in manufacturing, exporting and supplying outstanding quality Stainless Steel 310 Pipes. AHL supply high-quality SS pipes in
Seamless
, ERW, EFW, Welded & Fabricated with round,
square
, hex, oval, hollow, U and other shapes. 310 Stainless Steel Pipes are widely used in various industries such as cement & construction industries, pumps, sugar mills, and others.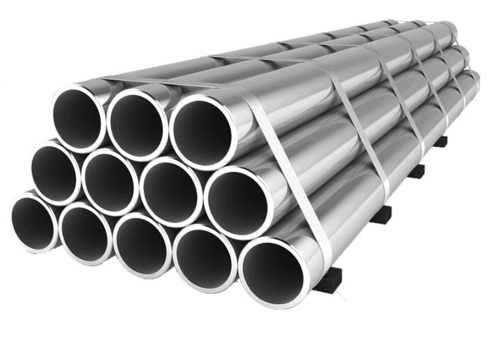 SS 310 Pipes Fabrication:
Mostly used in heat treatment and process industries in high temperature and corrosive environments
Can be easily roller-formed, stamped, and drawn
Usually fabricated into complex structures
Grade ss 310 pipes harden after severe forming operations. Hence, it should be followed by annealing
Applications of Alloyed 310 Pipes:
Higher alloyed 310 pipes have excellent strength at elevated temperatures. Along with this, these stainless steel grade pipes offer outstanding resistance to creep deformation and environmental contaminants. Some usage examples of 310 steel include:
Oil Burner Parts
Heat Exchangers
Furnace Parts
Welding Filler Wires and Electrodes
Combustion Tubes
Annealing Covers
Fire Box Sheets
Chemical Composition and Mechanical Properties:
Typical Chemical Composition %
Grade
C
Mn
P
Si
S
Ni
Cr
Mo
Fe
310
0.04 MIN
2.0 MAX
0.04 MAX
0.75 MAX
0.03 MAX
19.0 MIN
24.0 MIN
0.75 MAX
BLAANCE
310S
0.08 MAX
2.0 MAX
0.04 MAX
0.75 MAX
0.03 MAX
22.0 MAX
26.0 MAX
0.75 MAX
BALANCE
Typical Mechanical Properties
Grade
Tensile Strength
KSI (min.)
Yield Strength 0.2% Offset KSI (min.)
Elongation (% in 2ʺ(50.8 mm)
Hardness
(Brinell) MAX
Hardness
(Rockwell B) MAX
310
75
30
40
217
95
310S
75
30
40
217
95