BBQ grill
Outdoor Corten steel BBQ griddle and grill
Where There's Smoke, There's Fire.
This outdoor corten steel bbq is a functional piece of art designed to enhance outdoor cooking with beauty, warmth, food, and friendship. It is more practical and stylish than a normal barbecue and its simple, classic lines work in harmony with any setting, from country lawn to a chic restaurant terrace. When it is time to get together with friends and family, this stylish piece of art transforms into a warm, welcoming hub for cooking and entertaining.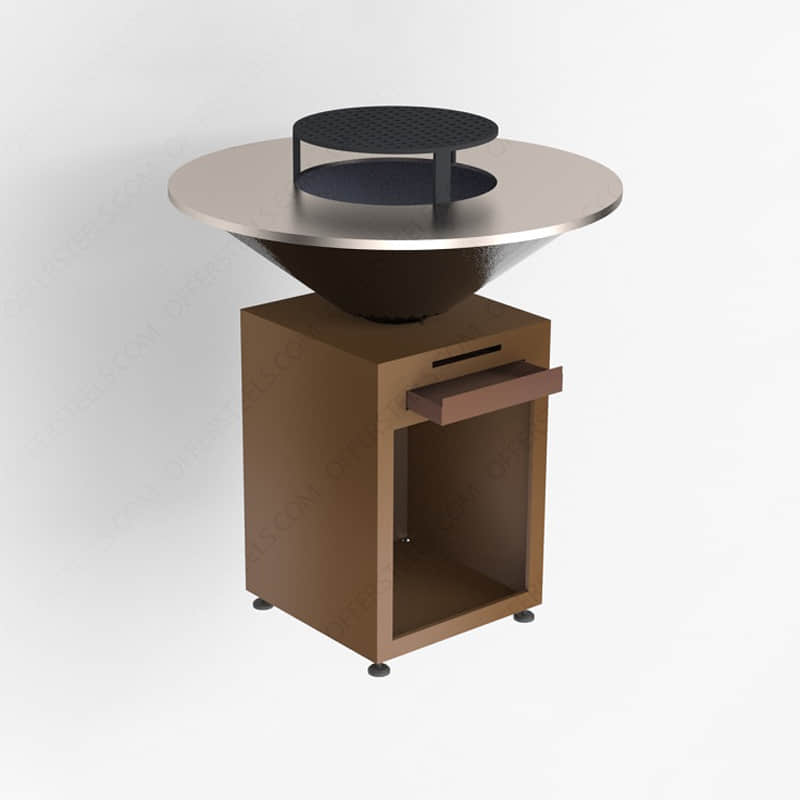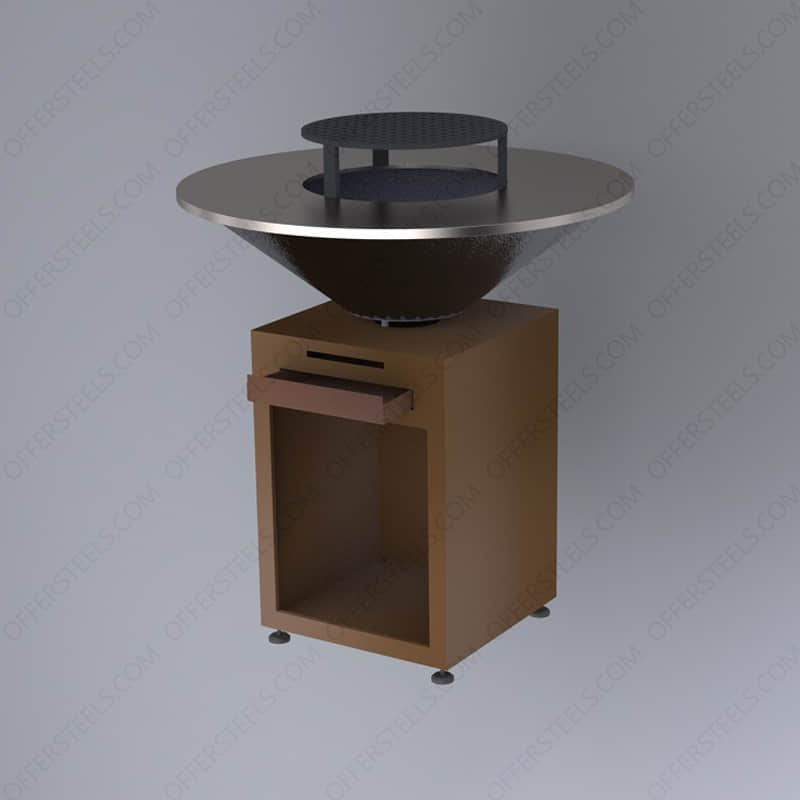 Enjoy the outdoor cooking with friends and family the whole year round
The AHL bbq grill brings people together in the same way as a traditional campfire. The wood-fired bowl emanates a cosy heat within a two metre radius so that you can cook and eat outdoors even in winter. The AHL bbq grill has an innovative, round design and lends itself perfectly for preparing food while having a drink or a nice conversation with family and friends.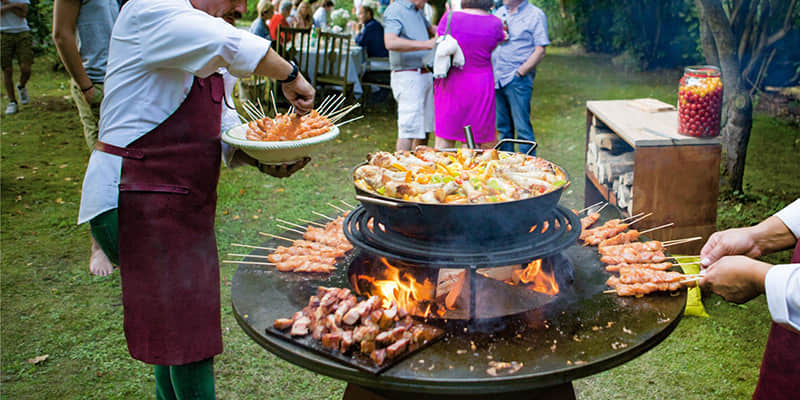 Outdoor cooking is a real pleasure with the AHL BBQ grill
The AHL's unique design makes it an incredibly versatile cooker. The cone shaped fire bowl has a wide, flat rim (read: plancha) which also serves as a very efficient cooking area. The warmth emanates from the middle to the edge so that one cooking plate has multiple cooking temperatures. Whether you're frying eggs, slowly cooking vegetables or grilling a tender steak, the AHL opens up a world of possibilities for outdoor cooking. The 10 mm thickness griddle is available with a diameter of 100 cm or 85 cm. The plate is heated to approximately 300˚C by the wood fire (you can also use charcoal but this doesn't look at good as there are no flames). Put some oil on the plate and start cooking. It has a very large cooking area: the plate has a diameter of 100 cm which makes it possible to cook food for 50 people.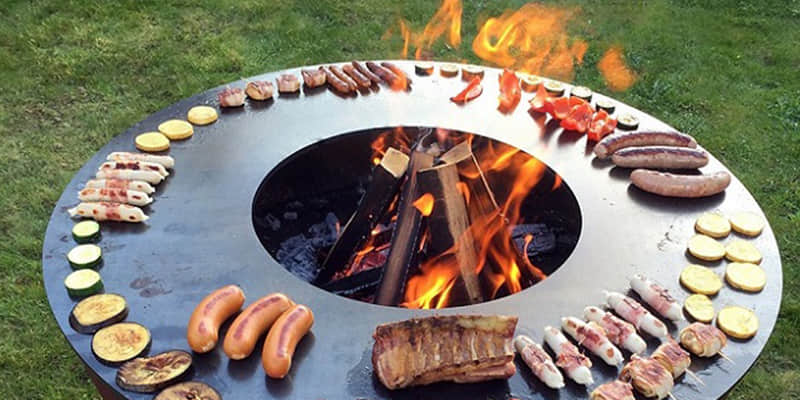 Easy To Use And Easy To Clean
Unlike other outdoor cookers, the AHL corten steel bbq is very easy to clean and virtually maintenance-free. Food scraps and excess oil go straight into the fire. The griddle is easily cleaned with a spatula as everything can be scraped into the fire. Simply wipe it down with a damp cloth and the AHL is ready to use again.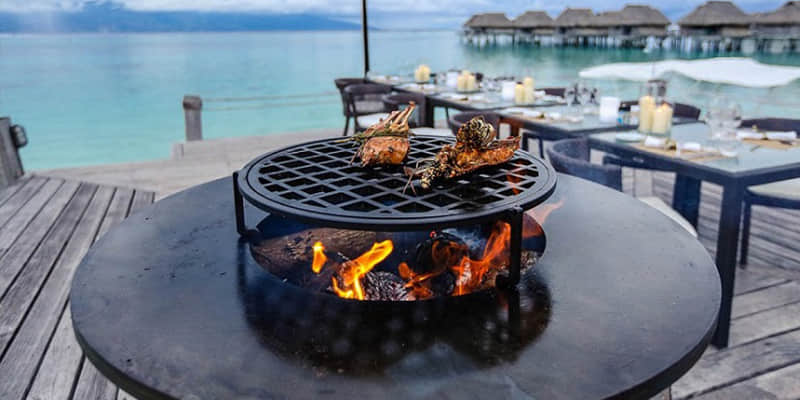 The AHL bbq grill is easy to move thanks to its three-part modular design. The cooking plate, fire bowl, and base can be lifted and moved separately. The cone has a 2 cm hole for the easy drainage of rainwater.
Top Sale Corten BBQ Grill Details
| Product name | Corten steel outdoor fire pit BBQ grill |
| --- | --- |
| Product Number | AHL-CORTEN BQ2 |
| Material | Corten steel, carbon steel |
| Dimensions | 100cm L x 100cm W x 85cm H |
| Surface | Rusted or coated |
| Weight | About 120 KG |
| Application | Outdoor Or Courtyard Decor |
| Services | Every fire pit can be customizable in sizes, patterns, your logos and names can be cut on them too. |
Our characters
21 types BBQ grills with CE certificate
Customizing design is acceptable
Can be used as barbecue and fire pit
Easy transport and install: three-part modular design
The base has a handy space for wood storage
Can stay outdoors in all seasons
Available in various sizes
OEM is acceptable
AHL-CORTEN CE Certificate

Other styles that you may interested
The AHL-CORTEN fire bowl barbecue grills are available in various sizes. Both the height of the base and the diameter of the fire bowl can be chosen. Please contact us for more information or visit our showroom to see the AHL for yourself.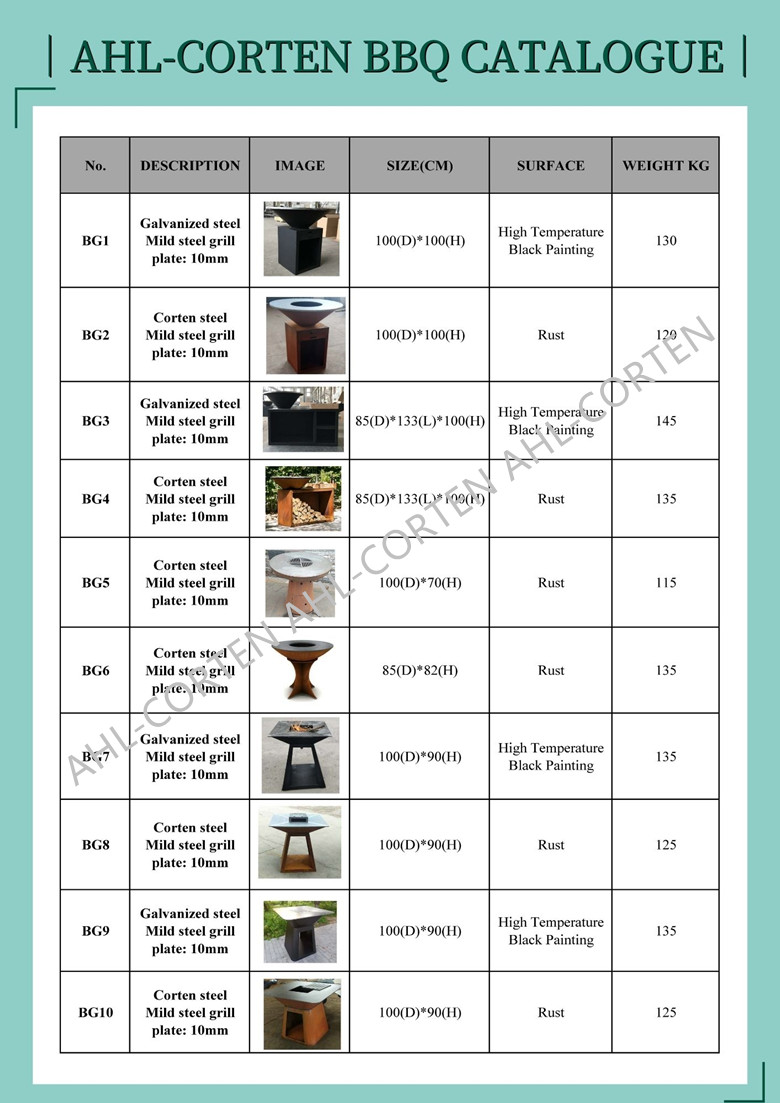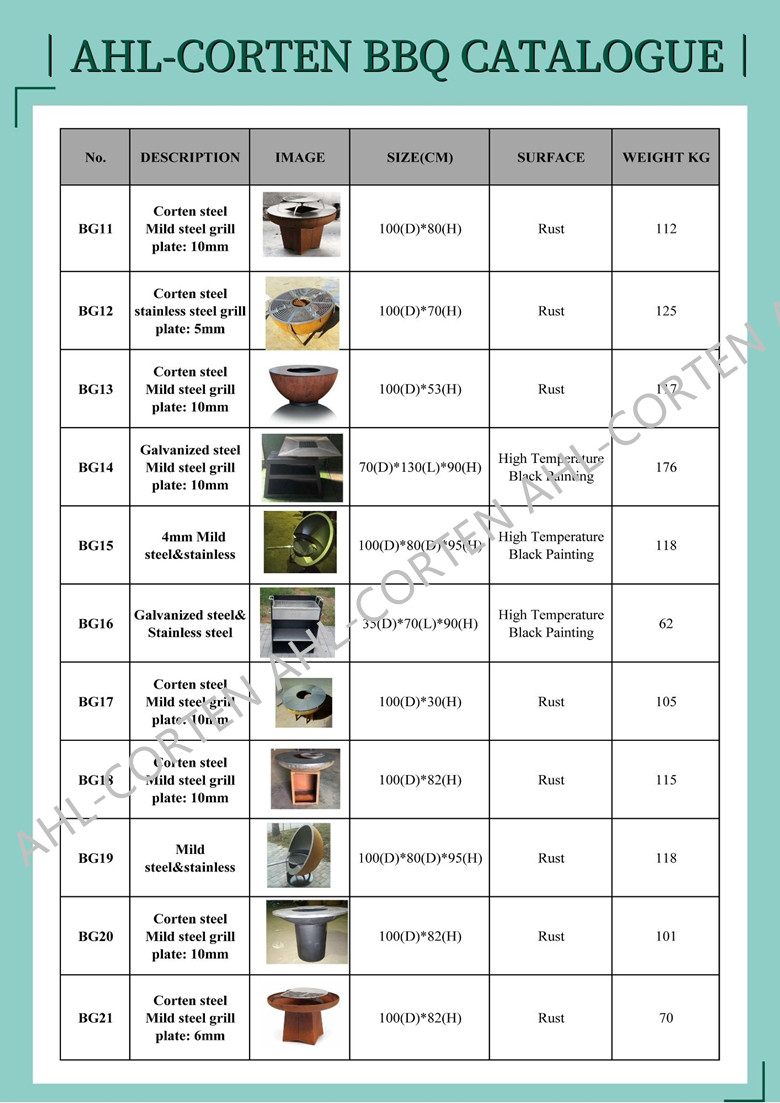 Download